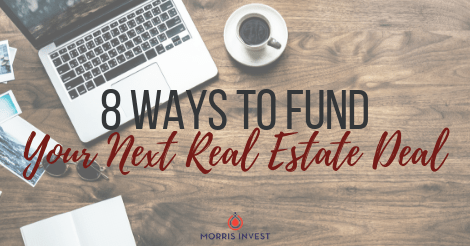 Here's the thing about growing your real estate portfolio: it involves being creative about financing, and a willingness to think outside the box. There are many ways to finance the purchase of a rental property, and I've used most of them. However, not all strategies will be a fit for every person. That's why we've compiled a list of 8 different ways to fund your next investment.
It's time to put the excuses aside, find an avenue that works for you, and begin (or continue) on your path to building wealth. This is your time! As you read through this list, be open-minded, and focus on your end goal.
Cash. This is the most obvious way to purchase a rental property. If you've got cash set aside in a savings account collecting a minuscule amount of interest, why not instead collect high ROI on a cash flowing rental property? It's understandable that it might seem risky to use that pile of cash, but please readjust your mindset, and understand that STREAMS of cash are far more useful.

Business credit cards. If you've got decent personal credit, 0% interest business credit cards are an incredible way to purchase your next investment. We've teamed up with an amazing company to help our clients secure 0% interest credit. If this sounds like a fit for you, you can hear my personal experience here, learn more about the process here, and save $500 off your sign up with Fund&Grow here!

Private money. Private money refers to any money that you borrow from anyone but the bank. If you've got a wealthy friend or relative, they could be your lender. Otherwise, you can dive into the world of real estate professionals and make a connection. The beauty of private money is that because it's not regulated by the government, you get to write your own rules. If private money is an avenue you'd like to pursue, here are a couple of resources to look into: my Private Money Playlist and Susan Lassiter-Lyon's course/book, Getting the Money.

HELOC. If you own your primary residence, using a HELOC is a fantastic way to access cash to purchase a rental property. A HELOC allows you to take out a line of credit based on the amount of equity in your home. This can also be done on existing rental properties. Typically, a HELOC is a great bank product, and it's accessible to many people. Here's how to use your HELOC as an investment tool.

401k. If you have a 401k through your employer, your plan likely allows you to take out one loan per year. This is a fantastic strategy, because you're in essence, paying the interest back to yourself. You can learn more about this strategy here.

Self-Directed IRA. A self-directed IRA is a retirement account that allows the owner control over where their money performs. Being strategic within a self-directed IRA allows the investor many possibilities, including investing in real estate! We've put together a comprehensive series to help you implement this strategy.

1031 Exchange. If you already own a rental property that doesn't perform as well as you'd hoped, a 1031 exchange might be right for you. To learn more, read our 1031 exchange guide, and check out our 1031 page if you'd like to move forward!

Hard Money. Hard money lenders are like bankers, but because they are not regulated by the government, they can set their own rules and lend with looser standards. They don't care as much about your credit score and they don't limit you to one investment at a time. They lend on the merit of the deal and they can close funding much faster than a traditional bank.
Ready To Build Passive Income Through Rental Real Estate?
Ready to talk about your goals? We're here to show you the tools and teach you the process to begin earning legacy wealth for you and your family.