CLAYTON MORRIS SHARES THE EASIEST WAY TO BUILD YOUR REAL ESTATE PORTFOLIO
Morris Invest builds new homes in the best rental markets and help you finance, fill, and manage them.
Join hundreds of investors earning thousands in passive income each month.
During our call, we'll see if build-to-rent real estate can further your financial goals. Sound good?

Ready for Hassle-Free Passive Income?
Start Your First Rental Investment In 3 Easy Steps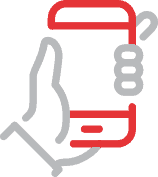 Pick a time on our calendar so we can discuss your financial goals & answer your questions.
We'll co-create a customized investing plan & match you with high-quality properties in the best rental markets.
Relax & enjoy your portfolio
Our expert team does all the heavy lifting from day one & provides free ongoing support for the life of your investment.
Beautiful properties your tenants will love
New construction properties that pass the strictest inspection standards
Morris Invest makes it easy to invest in rental real estate.
LET OUR TEAM DO
THE HEAVY LIFTING
Build It
High-quality properties in researched markets
Fill It
Find quality long-term tenants for less turnover
Finance It
Choose the best rates from more than 100 lenders
Manage It
Let a proven property manager take those 2 am calls
"Morris Invest is the best. Everything was simple. I didn't have to do anything but sign papers. As a matter of fact, I didn't even need to physically see the property myself. I picked up 2 in illinois and I've just been collecting rent. I'm fixing to get 2 more and do at least 1 a year. I love them."
"I was always interested in real estate but it was always something I thought was unattainable for someone like myself. I'm a novice investor. I have a full time job but I wanted some supplemental income to help pay the bills and grow into something more where I can not work and be financially free… Buying my house with Morris Invest was so easy and I can't say enough good things about the company."
"My property already had a tenant in place. It was instant cashflow. I am now a real estate investor and it's leading to some other great projects that I'm putting under my belt as well."
"Even though I am a real estate investor in my local market in Florida, I'm a wholesaler — and wholesaling is the art of finding discounted properties — I am actually making a higher ROI but more cash month over month with my Morris Invest properties."
"The Morris Invest team have been instrumental in guiding me with investing in properties and helping get closer to financial freedom."
Morris Invest has helped many people buy their first investment property and helped many seasoned investors build their portfolio of properties. With any investment there are going to be some commonly asked questions. In our many years of business we've heard many of the same questions over and over again. We decided to compile a list of our most frequently asked questions in no particular order. If you don't see your question here then please feel free to drop us a line.
How does your process work?
We like to start by getting to know you better, and invite you to do the same. That's why we typically schedule a phone call — we can answer your questions right away and it helps us get a sense of your personal situation.
Getting a feel for your situation is important because, even though we have a proven system, we take you through a customized path within that system. What works best for one client might not work best for another. As soon as we know where you're at (from newbie to seasoned pro) and what you're working with, we can guide you on the best course of action so you reach your goals faster and with less hassle.
If one or more of our properties meet your needs, we'll walk you through the entire process from pre-purchase and beyond. It doesn't matter if you want to use a Self-Directed IRA or some other financing option — we can help make it happen!
How do you make money, what are your fees?
We are able to purchase and develop our new construction properties in bulk. This allows production in higher volume vs. higher margin. This also allows us to offer more services and benefits to our clients without charging additional fees to have access to our team and products.
Who is SDIRA Wealth?
As Clayton mentions in his welcome video, we are a collaborative team which allows us to work effectively in bringing a customized approach to education and real estate investment. From financial education to customer service, Morris Invest and SDIRA Wealth work together to bring you a full service experience. With 20 years of experience in real estate and over 1 billion in sales SDIRA Wealth is nationwide operating in 14 states and over 40 cities. Our mission together is "to empower people to move beyond the status quo and create the best possible experience with our solution."
Where are the properties?
We always focus on landlord friendly states with the highest job growth and lowest vacancy rates. Each of our markets are studied for at least 12 months prior to beginning our lengthy development process. We operate in 14 states and over 40 cities.
What is all of this going to cost me?
One of the benefits of working with our team is the fact that we produce in high volume which allows us to negate extra fees for you. We are an educational company and we believe in financial intelligence. All we ask in return is to take time to educate yourself on strategies we offer and have an understanding of the value and benefits we can provide.
What are my financing options?
Over the past 20 years we have formed relationships with over 100 different lenders. We offer every type of financing to allow our team to customize the right portfolio to meet your needs. We offer conventional financing, portfolio financing, International financing, IRA financing, and non-recourse financing.
Can I see a list of properties?
Our goal is to create the best possible experience for our clients. Over the past 2 decades we have built relationships with our clients so we can best understand their needs and how to best serve them. Once we know where we can add value and what solution will make the greatest impact we then will customize a portfolio that will meet your needs, this is when we showcase the properties available.
How much do I pay for property management?
One of the benefits of working with our team is our ability to pass on a lower rate to our clients based on our high volume with the property management companies. Each management company lays out their fee schedule which can include a lease up fee covering the costs of obtaining a new tenant.
What lender should I use?
Depending on the property and location we have banks lined up that already have an understanding of the properties and strength of the market. As a full service company we are able to provide you with a connection to these lenders that offer competitive terms.
How do you get such a low interest rate?
Completing thousands of transactions has allowed us to build strong relationships with banks that know our product and process. This also creates a competitive advantage between lenders who are looking to earn our business. We have a dedicated team working with these lenders to bring those rates to our clients.
What is non-recourse financing?
Non-recourse financing is a loan that is secured by the asset itself, meaning the property not you or your company. You as the borrower are not liable which therefore lowers the risk. The property itself represents the collateral thus securing the loan for you as the investor.
Why have I never heard of self-directed IRAs before?
Since 1974 investors have been able to self-direct their IRAs. Most financial advisors offer investment in stocks, bonds and mutual funds which in turn allows them to make money. Public education on self-direction is lacking but our team is committed to changing that awareness.
START YOUR FIRST
RENTAL INVESTMENT NOW