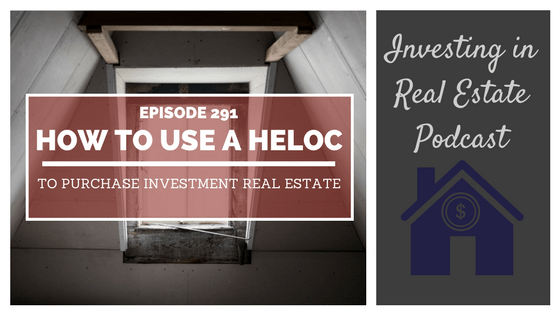 EP291: How to Use a HELOC to Purchase Investment Real Estate
Book a call with our team: https://go.oncehub.com/morrisinvest
Owning your primary residence is a liability, but there's a tool you can use to transform that liability into a vehicle for purchase performing assets. Smart investors know how to leverage, and this strategy can accelerate your real estate portfolio growth.
On this episode of Investing in Real Estate, I'm sharing one of my favorite strategies for acquiring rental real estate—using a HELOC! You'll learn about the incredible benefits of this strategy, including the power of simple interest and increasing your home equity. If you own your primary residence, you'll want to hear this episode!
More About This Show
A home equity line of credit, or a HELOC is often referred to as a second mortgage. When you take out a HELOC, the bank allows you access to a sizeable amount of cash. A HELOC is a loan based on the amount of equity in your home.
For example, let's say that your primary residence is worth $500,000, and the remaining balance on your mortgage is $200,000. In this scenario, you have $300,000 worth of equity.
You are able to get a loan on your equity, usually around 80% of value. In our scenario, 80% of $300,000 is $240,000! When you take out a HELOC, the bank gives you a checkbook and a debit card that you can use to make purchases.
Traditionally, a HELOC is used by homeowners to make home improvements, but there are no limits to your purchasing power. This is why a HELOC is a great strategy for purchasing real estate. You can turn your home equity into cash flowing rental properties, and your tenant makes the payments with their monthly rent. This is an especially powerful strategy because a HELOC is a revolving line of credit, you can rinse and repeat!
On today's show, I'm sharing more information about how to appropriately leverage with a HELOC. I'll talk about how a HELOC works, and why it's an amazing strategy for growing your portfolio. Don't miss episode 291 of Investing in Real Estate!
If you're ready to begin building a passive income through rental real estate, book a FREE call with our team today. We're ready to talk about your goals and want to help you learn more about earning legacy wealth for you and your family.
On this episode you'll learn:
What is the difference between a HELOC and a home equity loan?

What is simple interest?

How does the closing process work when you purchase a property with your HELOC?

How long does a HELOC typically last?

And much more!
Episode Resources
How to Pay Off Your Mortgage in 5 Years by Clayton & Natali Morris
Subscribe to Investing in Real Estate on iTunes
Find Your Financial Freedom Number
Subscribe to the Morris Invest YouTube channel
Like Morris Invest on Facebook
Ready To Build Passive Income Through Rental Real Estate?
Ready to talk about your goals? We're here to show you the tools and teach you the process to begin earning legacy wealth for you and your family.