Most people know that the number one way to build financial freedom is through real estate.
But the problem is most people don't know how. 
When they try to do it on their own they end up confused and frustrated.
That's why we founded Morris Invest. We believe that everyone should have the right to this opportunity. We've helped hundreds of people buy their first rental property and we've renovated thousands of homes and filled them with happy tenants.
Clayton Morris founded Morris Invest around a simple three step wealth plan.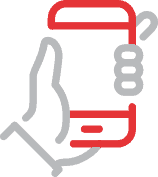 Schedule a quick phone call with our team so we can learn about your investment goals.
You don't have to go out and search for a house. We select a property for you from one of our great rental markets as soon as one becomes available.
Rely on our expert team to take care of the rest while you take in steady monthly rent from your property.
Are you failing to build financial freedom?
Are you worried about making costly mistakes with a vacant rental property? Are you intimidated by the thought of doing it all yourself?