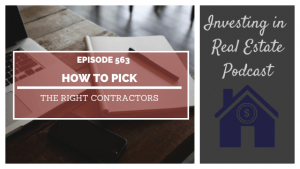 Book a call with our team: https://go.oncehub.com/morrisinvest
This episode is sponsored by SimpliSafe! If you're looking to fully protect your home with award-winning, 24/7 home security, now is the time to do it! SimpliSafe has everything you need to protect your home and family. SimpliSafe made a holiday offer with our listeners in mind, but it ends December 31st. They rarely do deals this big, so now's your chance. Visit simplisafe.com/investing to find out just how much you'll save.
If you've ever renovated a rental property, you know that hiring reliable contractors is a critical piece of your success. And hiring a contractor is no easy feat–there are a lot of things to take into account in order to get the right team for the job. On today's show, Jose Jaramillo is back to share his tips for finding the right contractor.
You're going to hear everything you need to consider before you hire a contractor for your investment property. We'll talk about contractor rates and dependability, how to screen contractors, and how to make sure you have the right fit for your project's needs. Don't miss episode 563 of Investing in Real Estate!
Jose's tips for hiring a contractor:
Use sites like Angi or HomeAdvisor to screen potential candidates. This is a great way to read reviews and find reliable contractors. You can expect a fast response time when using these services.
Don't hire the cheapest contractor you can find. You might think you can save a few bucks this way, but it's usually not the case. In Jose's experience, sometimes the cheapest contractor doesn't do the job right. This can turn into an expensive project, because you'll have to pay someone else to fix it.
Look for a contractor who seems responsible and will get the job done. Read reviews and also go with your gut feeling!
Consider the forms of payment the contractor accepts. A contractor who accepts multiple forms of payment cares about making things easy on their client! Also, consider that there is no way to track cash should the contractor bail on your project.
Ask about their current jobs. If you're looking to get your project done in a timely manner, you probably don't want to hire someone who is overloaded with work. You want to find someone who can show up on time, daily.
Start with a small project. If you have a good feeling about a contractor, give them a small task to do first. If you're impressed with their work, then move forward with giving them more responsibilities.
Don't pay 50% upfront. This is a dangerous move and an easy way to get cheated out of money. Agree to pay your contractors either weekly or incrementally as different stages of the project are completed. Always pay in a timely manner!
Think about developing a long-term relationship with your contractors. Don't work with someone who is just looking to make a quick buck, hire the person or company who can grow with you and help you for many more projects to come!
Don't negotiate on price. When a contractor tells you their perceived value, believe them! This will make them happy to work with you, and will ensure they do a great job.
Episode Resources
SimpliSafe
Private Money Playlist
How to Avoid Money Making Mistakes in Real Estate with Jose Jaramillo 
Plastiq
Find Your Financial Freedom Number
Subscribe to the Morris Invest YouTube channel
Like Morris Invest on Facebook
Connect with Jose Jaramillo
Instagram
If you're ready to begin building a passive income through rental real estate, book a FREE call with our team today. We're ready to talk about your goals and want to help you learn more about earning legacy wealth for you and your family.
Ready To Build Passive Income Through Rental Real Estate?
Ready to talk about your goals? We're here to show you the tools and teach you the process to begin earning legacy wealth for you and your family.