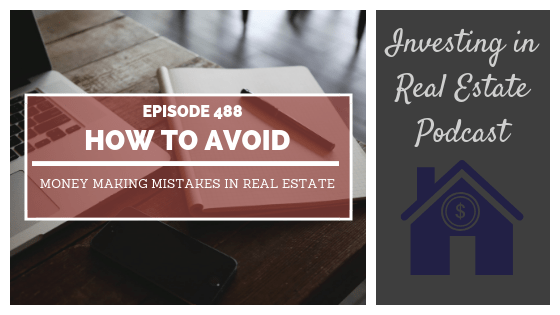 Book a call with our team: https://go.oncehub.com/morrisinvest
This episode of Investing in Real Estate is sponsored by Vistaprint! With Vistaprint, you can create a truly professional, unique card in minutes. Vistaprint wants you to be able to "Own the Now" in any situation, which is why our listeners will get 500 high-quality, custom business cards starting at $9.99. Just go to Vistaprint.com/INVESTING.
This episode is also brought to you by Mint Mobile! Mint Mobile provides the same premium network coverage as the big name wireless companies you're used to, but at a fraction of the cost because everything is online. To get your new wireless plan for just 15 bucks a month, and get the plan shipped to your door for FREE, visit mintmobile.com/investing.
Real estate investing is a great way to make money, but it can also lend itself to some sizable financial mistakes unless you know what you're doing. On this episode of Investing in Real Estate, I'm joined by investor Jose Jaramillo.
Jose is sharing the different ways he's made and lost money in real estate. We'll talk about his journey from baseball player to successful investor, the lessons he's learned in the real estate business, and the importance of creative financing. Don't miss episode 488 of Investing in Real Estate!
On this episode you'll learn:
How Jose transitioned from baseball player to real estate investor.

Why Jose got involved with Airbnb.

The details of his first real estate deal.

What you need to know about HOAs.

How to invest with no money.

The importance of being creative in real estate investing.

And more!
Episode Resources
Vistaprint
Mint Mobile
What Is the 1% Rule for Real Estate Investing?
How to Calculate ROI on a Real Estate Investment
Should You Buy a Rental Property with an HOA?
Find Your Financial Freedom Number
Subscribe to the Morris Invest YouTube channel
Like Morris Invest on Facebook
Contact Jose Jaramillo
Instagram
Facebook
If you're ready to begin building a passive income through rental real estate, book a FREE call with our team today. We're ready to talk about your goals and want to help you learn more about earning legacy wealth for you and your family.
Ready To Build Passive Income Through Rental Real Estate?
Ready to talk about your goals? We're here to show you the tools and teach you the process to begin earning legacy wealth for you and your family.