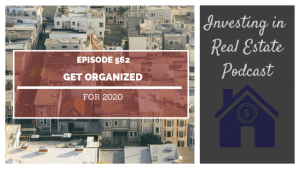 Book a call with our team: https://go.oncehub.com/morrisinvest
As we head into 2020, now is the perfect time to organize all of your business and investment documents. As a real estate investor, there are important tax and property documents to keep track of, and it's always a smart idea to be organized! Putting systems in place can help you avoid headaches and be more productive.
On this episode of Investing in Real Estate, we're sharing how to get organized for 2020! You'll hear three main areas you should consider organizing before the new year, and how to efficiently do so. We'll talk about optimizing your digital folders, maintaining proper records for physical documents, and more!
On this episode you'll learn:
How to organize your digital files.
The importance of cleaning up your records.
What to do with physical documents.
How long to keep your records for tax purposes.
How to prepare your 2020 organizational system
And more!
Episode Resources
Fujitsu ScanSnap Printers
IRS – How long should I keep records?
Free Download – How to Track Your Rental Properties
Free Download – Short-Term Goals 
How to Track Rental Property Expenses 
Financial Freedom Academy
Find Your Financial Freedom Number
Subscribe to the Morris Invest YouTube channel
Like Morris Invest on Facebook
If you're ready to begin building a passive income through rental real estate, book a FREE call with our team today. We're ready to talk about your goals and want to help you learn more about earning legacy wealth for you and your family.
Ready To Build Passive Income Through Rental Real Estate?
Ready to talk about your goals? We're here to show you the tools and teach you the process to begin earning legacy wealth for you and your family.