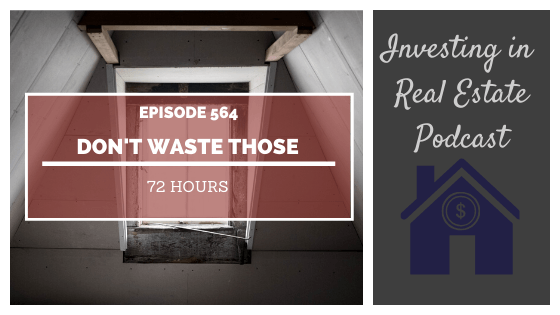 Book a call with our team: https://go.oncehub.com/morrisinvest
With the holidays approaching, now is the perfect time to think about your goals and what you want to achieve. There are 72 hours in a week after you sleep eight hours per night and work 40 hours a week for someone else. In 2020, what will you do with those 72 hours every week?
On this episode of Investing in Real Estate, I want to discuss how to take stock of your year and determining where you're wanting to go in the new year. I implore you to make a plan during your free time over the holiday break, and begin working toward your goals. If there's something you've been putting off, I hope today's show will inspire you to make the leap!
On this episode you'll learn:
The truth about making excuses.
Why you should map out your future over the holidays.
How to determine how much time to spend on your goals.
Common misconceptions about starting a business.
The power of becoming an action taker.
Episode Resources
Financial Freedom Academy
Find Your Financial Freedom Number
Subscribe to the Morris Invest YouTube channel
Like Morris Invest on Facebook
If you're ready to begin building a passive income through rental real estate, book a FREE call with our team today. We're ready to talk about your goals and want to help you learn more about earning legacy wealth for you and your family.
Ready To Build Passive Income Through Rental Real Estate?
Ready to talk about your goals? We're here to show you the tools and teach you the process to begin earning legacy wealth for you and your family.