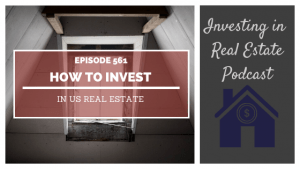 Book a call with our team: https://go.oncehub.com/morrisinvest
This episode of Investing in Real Estate is sponsored by Fund&Grow. Fund&Grow helps investors access business lines of credit with 0% interest. For $500 off your startup fee, visit morrisinvest.com/funding.
The US is the best place to buy high return real estate investments, no matter where you live. However, the access to entry can seem overwhelming from overseas. From financing to finding properties, it can be hard to do it all from across the map. If you're a foreign real estate investor, there are some amazing advantages to buying US real estate that you should know. There are so many powerful wealth building advantages available to you if you utilize the right strategies.
On today's show, you're going to learn the best and easiest way to invest in US real estate. You'll hear about non-recourse financing, and why it's a great option for foreign investors. I'm learn 10 benefits of purchasing US real estate, plus how to finance your purchase. If you've been thinking about buying US real estate, this video is going to blow your mind!
On this episode you'll learn:
The benefits of investing in US real estate.
How non-recourse financing works.
How to maximize your ROI on a real estate purchase.
The importance of increasing your net worth.
And much more!
Episode Resources
Fund&Grow
Financial Freedom Academy
Find Your Financial Freedom Number
Subscribe to the Morris Invest YouTube channel
Like Morris Invest on Facebook
If you're ready to begin building a passive income through rental real estate, book a FREE call with our team today. We're ready to talk about your goals and want to help you learn more about earning legacy wealth for you and your family.
Ready To Build Passive Income Through Rental Real Estate?
Ready to talk about your goals? We're here to show you the tools and teach you the process to begin earning legacy wealth for you and your family.