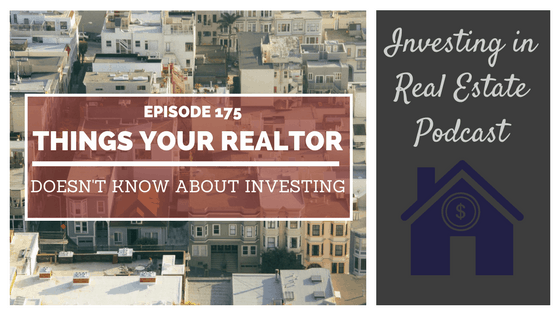 EP175: Things Your Realtor Doesn't Know About Investing
Book a call with our team: https://go.oncehub.com/morrisinvest
Naturally, many people think that the best way to initiate real estate investing is to connect with a real estate agent. However, more often than not, realtors know very little about things like seller financing and purchasing distressed properties. Don't get me wrong: I love realtors. I know they work very hard, but they simply are not always well versed in the world of investing.
On this episode of Investing in Real Estate, Natali and I are sitting down to discuss the role of realtors, and why they often know very little about investing. We'll also elaborate on finding the right realtors to help you in your endeavors, and more. Please join us for episode 175 of Investing in Real Estate!
More About This Show
This episode is not intended as a slight against realtors. In fact, we know and love many realtors. Natali also has her real estate license. The issue is, the main role of a realtor is to help individuals and families purchase their primary residences.
That's a whole different ball game than real estate investing! Most realtors simply do not know about investing, including turnkey investing, seller financing, and buying distressed properties. Investing is an entirely different business.
Unfortunately, most novice investors have no idea about this disconnect. It seems like if you want to purchase a property, the natural place to start is with a realtor. But a realtor most likely is not going to be able to help you find a property under market value; their job is to help their clients get the most for their property!
You can, however, find realtors who can help. It becomes a longer process, and distinct communication is required. On today's show, we'll share exactly how to vet and interview realtors, and how you can use them in your business.
If you're ready to begin building a passive income through rental real estate, book a FREE call with our team today. We're ready to talk about your goals and want to help you learn more about earning legacy wealth for you and your family.
On this episode you'll learn:
How can you interview a realtor?
Why would a seller decide not to sell on the open market?
What is a pocket listing, and how does it work?
How many realtors should you have on your team?
And much more!
Episode Resources
EP151: What Is Seller Financing?
Subscribe to Investing in Real Estate on iTunes
Find Your Financial Freedom Number
Subscribe to the Morris Invest YouTube channel
Like Morris Invest on Facebook
Ready To Build Passive Income Through Rental Real Estate?
Ready to talk about your goals? We're here to show you the tools and teach you the process to begin earning legacy wealth for you and your family.