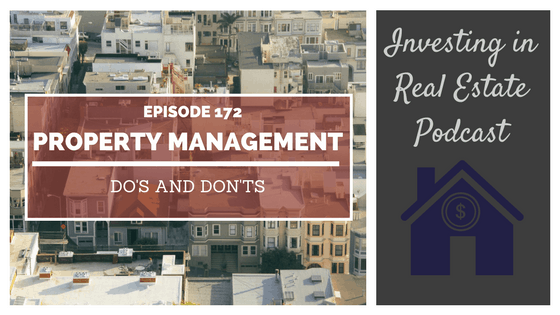 EP172: Property Management Do's and Don'ts
Book a call with our team: https://go.oncehub.com/morrisinvest
Hiring a property management team makes real estate investing simple and passive! A skilled property management team is an indispensible part of your success, and will make your business scalable.
On this episode of Investing in Real Estate, we're tackling your questions about property management teams! You'll learn about finding the right team for the job, how much you should expect to pay for their service, and more! Don't miss episode 172!
More About This Show
Finding the right property management team is a duty you should take very seriously. We like companies that develop strong relationships with our tenants. We also want them to communicate with us.
First of all, we ask how they tend to communicate. Some use email, while others use text messages, or snail mail. We want to know whom on the team we'll hear from in each circumstance, and how they'll reach out to us.
We also ask about their tenant screening process, as it's one of the most important roles your property management team will hold. You'll want to ensure they are able to place high quality tenants in your properties. Ask them to walk you through their screening process. An effective team will conduct criminal background checks, verify employment, perform credit checks, and confirm previous rental history.
When it comes to software, that isn't the most important qualification. In fact, we even work with a team that sends a paper, handwritten check via email. Software can be helpful, and organization is important, but we prefer that our teams are more focused on cash flow than minor details like that.
On today's show, we'll answer your questions about working with property management teams. We'll talk about building a strong relationship, how often you should communicate, and more!
If you're ready to begin building a passive income through rental real estate, book a FREE call with our team today. We're ready to talk about your goals and want to help you learn more about earning legacy wealth for you and your family.
On this episode you'll learn:
What details are on a property management statement?
How much should you expect to pay for property management?
Should your property management team be licensed?
Is it common practice for a property management company to hold the security deposit throughout the life of the lease?
What is a lease up fee?
And much more!
Episode Resources
Live Stream Version: Property Management Do's and Don'ts
What's the Difference Between an A, B, and C Neighborhoods?
Subscribe to Investing in Real Estate on iTunes
Find Your Financial Freedom Number
Subscribe to the Morris Invest YouTube channel
Like Morris Invest on Facebook
Ready To Build Passive Income Through Rental Real Estate?
Ready to talk about your goals? We're here to show you the tools and teach you the process to begin earning legacy wealth for you and your family.