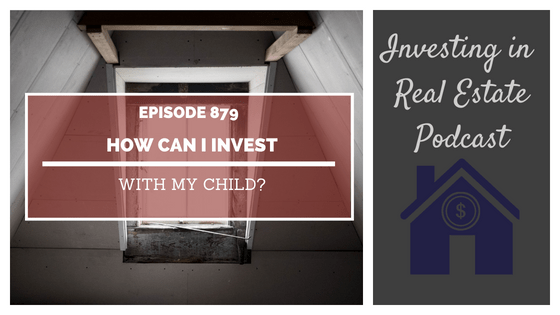 Today's first caller asked an interesting question about using college funds to invest in real estate. What's the best way for an investor to get their child involved in real estate investing? That's the first question I'm answering on today's show!
This Q&A episode features three great listener questions on involving children in your investing, how USDA loans work, and the best way to utilize equity gains. Hear my answers to your best investing questions on this episode of Investing in Real Estate!
On this episode you'll learn: 
What to consider about investing with your child.
Things to know about using a USDA loan.
How to use your equity to reach financial goals.
What to Consider About Investing with Your Child
I think it's a great idea to contemplate using college funds to invest in real estate. Consider what kind of ROI you can get on a rental property vs. a college degree. This is a personal decision, of course, but college isn't for everyone. Investing is a smart financial move, regardless of your career choices.
I'd suggest setting up a free consultation with a great legal team like Corporate Direct. They can advise you on entity setup and the best methods for having a partnership with a parent & child.
Things to Know About Using a USDA Loan
A USDA loan can only be used for a primary home
You must have proof of a dependable income
You must have a decent credit score
The loan is usually for homes 2000 sq. ft. or less
The loan is usually for properties between $100,000 and $500,000
To determine if this is a fit for you, I'd suggest sitting down with a local banker who knows your market. There are a lot of criteria for this loan type, and again, it cannot be used for a rental property.
How to Use Your Equity to Reach Financial Goals
I love talking about how to use your equity to reach your financial goals. So much so, I wrote a book about it! In How to Pay Off Your Mortgage in 5 Years, you'll learn how to use a HELOC to pay down your mortgage and/or invest. The HELOC is a great financial product that can be used in a multitude of ways. I would recommend shopping with a local bank to get the best product possible.
Episode Resources
Book a Call with Our Team
zbiotics.com/investing ← Use code INVESTING at checkout for 15% off your first order!
ExpressVPN.com/investing ← Use my link to get an extra 3 months FREE on a one-year package!
Corporate Direct
How to Pay Off Your Mortgage in 5 Years
morrisinvest.com/Clayton
Download the FREE Financial Empowerment Bootcamp
Download the Freedom Cheat Sheet
Subscribe to Investing in Real Estate on iTunes
Find Your Financial Freedom Number
Subscribe to the Morris Invest YouTube channel
Like Morris Invest on Facebook
DISCLAIMER: I am not a financial adviser. I only express my opinion based on my experience. Your experience may be different. These videos are for educational and inspirational purposes only. Investing of any kind involves risk. While it is possible to minimize risk, your investments are solely your responsibility. It is imperative that you conduct your own research. There is no guarantee of gains or losses on investments.
AFFILIATE DISCLOSURE: Some of the links on this channel are affiliate links, meaning, at NO additional cost to you, I may earn a commission if you click through and make a purchase and/or subscribe. However, this does not impact my opinion. We recommend them because they are helpful and useful, not because of the small commissions we make if you decide to​ use their services. Please do not spend any money on these products unless you feel you need them or that they will help you achieve your goals.
Ready To Build Passive Income Through Rental Real Estate?
Ready to talk about your goals? We're here to show you the tools and teach you the process to begin earning legacy wealth for you and your family.