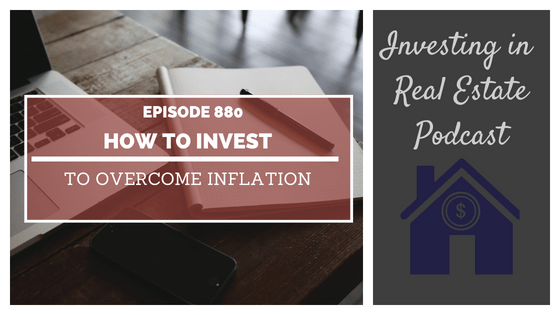 From rising prices at the gas pump to the grocery store, I think it's safe to say we're all feeling the pinch of inflation. But from a broader economic perspective, the effects of inflation go much deeper than the prices you're seeing on the shelves at the store.
Continued high inflation can lead to a recession, cause economic turmoil, and impact Wall Street in a way that drives increased volatility. Now, I'm not an alarmist by any means, but these three negative consequences of inflationary times can put your wealth at risk, and this is something to be concerned about. So on this episode of Investing in Real Estate, we're going to discuss inflation and how investing in multiple rental properties can essentially create a hedge against inflation that protects your wealth.
Three Reasons Why Owning Multiple Rental Properties Is a Hedge Against Inflation
Real Estate Historically Outperforms the Stock Market During Times of Inflation
As I discussed, retirement accounts are heavily based in stocks and go with the flow of the economy, which can mean big trouble and high risks in times of inflation. In contrast, real estate does not follow this pattern. In fact, this sector has been known to excel in troubled economic times such as these.
Real estate is a safer asset to invest in to grow your retirement funds. It's an excellent hedge against inflation compared to stock-based investments due to its ability to rise in value along with inflation instead of decreasing in value at the first sign of economic trouble. Because of this, I have personally invested in multiple rental properties, and so have many of my fellow investors – this brings in consistent multiple streams of income each month, like clockwork.
The income from my rental properties has been steadily pouring into my retirement account, and has been unaffected by all the chaos that the nation has dealt with over the past few years.
Rental Property Appreciation Keeps You Ahead of the Inflation Game.
Real estate appreciation pertains to an increase in the value of property over time, and this is just the natural course of real estate. Appreciation makes real estate a solid investment, and the best part is that each time there is a bout of inflation, your properties get a boost in value. This can come about for several reasons, with one being that building costs such as materials and labor go up during inflationary times, which increases overall property values.
So, while people are being hit in a negative way by the high price of inflation in many sectors, property investors are being positively impacted by the price hikes – you can't say that about many asset types, can you?
Now imagine owning multiple rental properties. The total sum of appreciation would certainly increase your net worth. I hope you are starting to see just how much investing in rental properties can build and preserve your wealth.
Rents Increase During Times of Inflation Creating More Cash Flow
Another reason that rental properties are a hedge against inflation is because when inflation hits, rents increase. In fact, in June of 2022, rent prices rose 0.8% during the month, which is the highest monthly increase since 1986. This means that real estate investment holders are now enjoying a boost in rental income which has increased their cash flow as well as their ROI.
In addition to this, during times of inflation, many people shy away from home purchases and lean towards renting. This increases the demand for rentals, which can increase the rent asking price once more. We're seeing this now with the affordable housing crisis that's currently going on. There is such a high demand for rentals that builders are having a hard time keeping up with the increased demand for new construction rental properties.
Episode Resources
Book a Call with Our Team
MyTartCherry.com/investing ← Get up to 35% off Tart Cherry Gummies plus free shipping!
morrisinvest.com/bootcamp ← Download your FREE 90-Day Bootcamp!
Stock Market Plunge Punished 401k Millionaires
Subscribe to Investing in Real Estate on iTunes
Find Your Financial Freedom Number
Subscribe to the Morris Invest YouTube channel
Like Morris Invest on Facebook
DISCLAIMER: I am not a financial adviser. I only express my opinion based on my experience. Your experience may be different. These videos are for educational and inspirational purposes only. Investing of any kind involves risk. While it is possible to minimize risk, your investments are solely your responsibility. It is imperative that you conduct your own research. There is no guarantee of gains or losses on investments.
AFFILIATE DISCLOSURE: Some of the links on this channel are affiliate links, meaning, at NO additional cost to you, I may earn a commission if you click through and make a purchase and/or subscribe. However, this does not impact my opinion. We recommend them because they are helpful and useful, not because of the small commissions we make if you decide to​ use their services. Please do not spend any money on these products unless you feel you need them or that they will help you achieve your goals.
Ready To Build Passive Income Through Rental Real Estate?
Ready to talk about your goals? We're here to show you the tools and teach you the process to begin earning legacy wealth for you and your family.