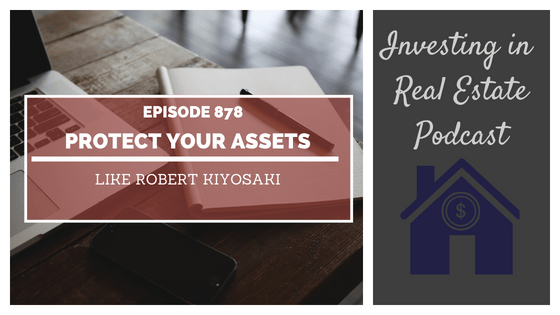 Asset protection is a critical aspect of any real estate investing business. And sadly, it's something that many investors overlook until it's too late. In the event of a lawsuit, it's important that your legal entities are set up to protect your personal assets. On today's show, I'm bringing in the most qualified expert I know to discuss asset protection for real estate investing.
On this episode of Investing in Real Estate, I'm sitting down with Garrett Sutton. Garrett is an attorney, bestselling author, Rich Dad Advisor, and the founder of Corporate Direct. In his new book, Veil Not Fail, Garrett shares important strategies for reducing your liability in the event of a lawsuit. Today you're going to hear some of his best tips on legal entity structure, corporate formalities, insurance for rental properties and so much more!
On this episode you'll learn:
How to maintain the corporate veil.
What you should know about transferring a property to an LLC.
How to protect your assets in a lawsuit.
And much more!
How to Maintain the Corporate Veil
Many business owners and investors believe that as long as they set up an LLC, they'll be protected in a lawsuit. However, every state has cases about piercing the corporate veil, meaning that the courts can decide to disregard limited liability protection and allow a business owner to be personally liable. In fact, in 50% of cases, the corporate veil has been pierced. That's why it's so important to do everything in your power to maintain the corporate veil. Some things you should do include: create an operating agreement, pay the state's annual fee and fill out required filings, and log meeting minutes. In Veil Not Fail, Garrett shares specific examples and rules for maintaining the corporate veil and protecting your assets.
What You Should Know About Transferring a Property to an LLC
Transferring a property to an LLC can be nerve racking for real estate investors. Many investors worry about triggering a due on sale clause, but Garrett explains that this is no cause for concern. A due on sale clause is not going to be triggered in a transfer, because the property is not being sold. However, the real concern should be maintaining the standing of the LLC. Each state has different reports and fees, and you'll want to keep up to date on these things to reduce your liability.
How to Protect Your Assets in a Lawsuit
The first thing you'll want to consider is having a great insurance policy. It's also important to set up your LLC structure in a state that has superior asset protection, such as Wyoming (you can learn more about the best states for asset protection in Loopholes of Real Estate). Garrett also recommends setting up an umbrella insurance policy for your home and automobiles. To get a free 15-minute consultation with Garrett's firm, Corporate Direct, click here.
Episode Resources
Book a Call with Our Team
Shopify.com/investing ← Get a free 14-day trial + full access to Shopify's entire suite of features!
Schedule a Free 15-Minute Consultation with Corporate Direct 
Veil Not Fail by Garrett Sutton
The Loopholes of Real Estate by Garrett Sutton 
morrisinvest.com/bootcamp ← Download your FREE 90-Day Bootcamp!
Subscribe to Investing in Real Estate on iTunes
Find Your Financial Freedom Number
Subscribe to the Morris Invest YouTube channel
Like Morris Invest on Facebook
DISCLAIMER: I am not a financial adviser. I only express my opinion based on my experience. Your experience may be different. These videos are for educational and inspirational purposes only. Investing of any kind involves risk. While it is possible to minimize risk, your investments are solely your responsibility. It is imperative that you conduct your own research. There is no guarantee of gains or losses on investments.
AFFILIATE DISCLOSURE: Some of the links on this channel are affiliate links, meaning, at NO additional cost to you, I may earn a commission if you click through and make a purchase and/or subscribe. However, this does not impact my opinion. We recommend them because they are helpful and useful, not because of the small commissions we make if you decide to​ use their services. Please do not spend any money on these products unless you feel you need them or that they will help you achieve your goals.
Ready To Build Passive Income Through Rental Real Estate?
Ready to talk about your goals? We're here to show you the tools and teach you the process to begin earning legacy wealth for you and your family.