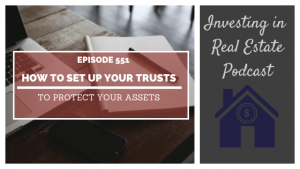 Book a call with our team: https://go.oncehub.com/morrisinvest
This episode of Investing in Real Estate is sponsored by SimpliSafe! If you've been thinking about your home security, there is no better time to get it than right now. Because starting this week, SimpliSafe Home Security is giving our listeners exclusive deals for Black Friday. SimpliSafe almost never has deals like this. So if you're thinking about protecting your home, check out SimpliSafe today! SimpliSafe is already the best value in home security. And right now, you'll get all the savings from their massive Black Friday sale. Just visit simplisafe.com/investing. This offer ends Cyber Monday.
As a real estate investor, asset protection is incredibly important. Most business owners get sued at some point, so it's critical to ensure that you have the right protection in place, proactively! On today's show, we're diving into the world of trusts with Bruce Mack!
For over 25 years, Bruce has been a successful real estate investor. He is also one of the nation's foremost authorities in financing, credit, and other financial services. At Platinum Trust Group, Bruce and his team help their clients establish trusts that eliminate the need for liability insurance, protect assets, and become virtually lawsuit-proof. On today's show, Bruce is sharing what you need to know about setting up a trust, and how to determine if a trust is right for you!
On this episode you'll learn:
Why an umbrella policy is not enough to protect your assets.
The two main benefits of a living trust.
How Bruce became passionate about trusts.
The history of trusts.
What fraudulent conveyance is.
And more!
Episode Resources
SimpliSafe
How to Build a Portfolio of Probate Properties with Chad Corbett 
Financial Freedom Academy
Find Your Financial Freedom Number
Subscribe to the Morris Invest YouTube channel
Like Morris Invest on Facebook
Connect with Bruce Mack
Website 
If you're ready to begin building a passive income through rental real estate, book a FREE call with our team today. We're ready to talk about your goals and want to help you learn more about earning legacy wealth for you and your family.
Ready To Build Passive Income Through Rental Real Estate?
Ready to talk about your goals? We're here to show you the tools and teach you the process to begin earning legacy wealth for you and your family.