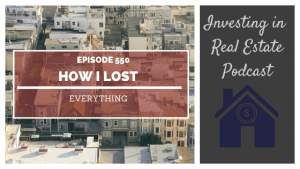 Book a call with our team: https://go.oncehub.com/morrisinvest
This episode is sponsored by Vistaprint! Whatever reaction you're looking for this holiday, you can spread more joy with custom holiday cards, calendars and photo gifts from Vistaprint. Vistaprint has custom calendars for gifts that keeps giving…all year round. You can also upload your favorite photos right from your phone and save on mugs, canvases and other photo gifts. So this season make more merry at Vistaprint with up to 50% off all holiday cards and photo calendars, plus great deals on photo gifts. Just visit vistaprint.com and enter promo code INVESTING50. Offer expires January 5.
This episode of Investing in Real Estate is sponsored by Enclosed! Gentlemen, are you looking for something different and romantic to give your wife or girlfriend this holiday season? Do not buy her another sweater or flowers. Surprise her with designer lingerie from Enclosed. Once you sign up, Enclosed will send her a new gift every month. Your work is done, and she enjoys a custom-curated surprise, month after month. Enclosed is offering a special offer for our listeners: when you sign up at getenclosed.com, use our special coupon code ​CLAYTON ​at checkout to save $35 off the purchase of any multi-month gift.
On this episode of Investing in Real Estate, I'm sharing a personal, devastating story of how I once lost everything in a speculative land project. You'll hear the details of the deal and how it went under.
More importantly, I'll share how I recovered from that setback. I'll discuss the lessons I learned about investing in real estate, why I chose to continue investing, and how to have a positive mindset when things don't go your way. I hope this episode inspires you to move forward, no matter what hardships you've faced.
On this episode you'll learn: 
The details of the speculative land project.
What happened with the banks when the project went under.
Why speculative real estate is dangerous.
How I pivoted to buy and hold real estate.
The circumstances that forced me to get creative with financing.
Why I decided not to quit investing after a bad deal.
And more!
Episode Resources
Vistaprint
Enclosed
Our Story Series 
Financial Freedom Academy
Find Your Financial Freedom Number
Subscribe to the Morris Invest YouTube channel
Like Morris Invest on Facebook
If you're ready to begin building a passive income through rental real estate, book a FREE call with our team today. We're ready to talk about your goals and want to help you learn more about earning legacy wealth for you and your family.
Ready To Build Passive Income Through Rental Real Estate?
Ready to talk about your goals? We're here to show you the tools and teach you the process to begin earning legacy wealth for you and your family.