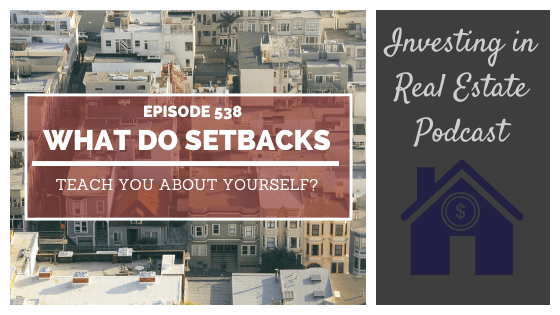 Book a call with our team: https://go.oncehub.com/morrisinvest
This episode is sponsored by Vistaprint! With Vistaprint, you can get free shipping on any business card, in any quantity. Choose whatever style, finish, shape or paper you like. Select your own colors, fonts, designs and images to create something as unique and compelling as your business. You can feel good knowing that Vistaprint uses only carefully selected inks and responsibly sourced paper stocks. Vistaprint wants you to be able to "Own the Now" in any situation, which is why our listeners will get free shipping on all business cards, any style, any quantity. Just go to Vistaprint.com and enter promo code INVESTING.
Setbacks are a part of any business, and real estate investing is no exception. When many new investors experience problems in their business, it can be easy to begin spiraling into fear, regret, and insecurity. On today's show, Natali and I want to talk about what these setbacks can teach you about yourself.
If you've ever gone through a hardship in your business, and found yourself regretting purchasing real estate, this episode is for you. You'll learn about appropriately managing your expectations, how to get through a tough time, and the importance of thinking of your setbacks objectively. Please join us for episode 538 of Investing in Real Estate!
On this episode you'll learn:
Why more people don't invest in real estate.

How to realistically manage your expectations.

How to plan for expenses and vacancies.
The importance of viewing problems objectively.

How to look for solutions instead of dwelling on emotions.

And more!
Episode Resources
Vistaprint
How to Make $300,000 a Year with this Airbnb Formula with Brian Page – Episode 476
Financial Freedom Academy
Find Your Financial Freedom Number
Subscribe to the Morris Invest YouTube channel
Like Morris Invest on Facebook
If you're ready to begin building a passive income through rental real estate, book a FREE call with our team today. We're ready to talk about your goals and want to help you learn more about earning legacy wealth for you and your family.
Ready To Build Passive Income Through Rental Real Estate?
Ready to talk about your goals? We're here to show you the tools and teach you the process to begin earning legacy wealth for you and your family.