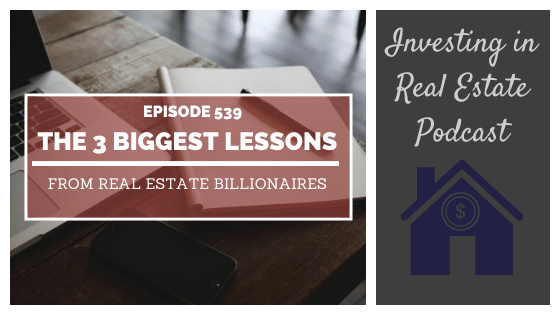 Book a call with our team: https://go.oncehub.com/morrisinvest
This episode of Investing in Real Estate is sponsored by SimpliSafe! SimpliSafe protects your whole home – every window, room and door – with 24/7 monitoring for just a fraction of the cost. There's no contract, hidden fees or fine print. For free shipping and a 60-day risk-free trial, visit simplisafe.com/investing.
What could you learn from following the advice and actions of the world's top real estate investors? How would your mindset shift? How would your portfolio grow? Erez Cohen has collected this knowledge first-hand, and he shares it in his new book Real Estate Titans.
On today's show, I'm joined by Erez to discuss the inner workings of a real estate titan's mind. We'll discuss three of the biggest lessons from the world's top investors, as well as Erez's personal journey into real estate. We'll talk about mindset habits, business growth, and so much more! Erez has so many insights to share, I know you'll enjoy this interview.
On this episode you'll learn:
How Erez got started in real estate.

Erez's inspiration to write Real Estate Titans.

The importance of following a mentor in business.

The power of a healthy mindset for creating wealth.

How to develop a millionaire mindset.

The big lesson Erez learned from working with Ivanka Trump.

The link between luck and hard work.

How clarity and focus can help you reach your goals.

And much more!
Episode Resources
SimpliSafe
Real Estate Titans by Erez Cohen
Find Your Financial Freedom Number
Subscribe to the Morris Invest YouTube channel
Like Morris Invest on Facebook
Connect with Erez Cohen
LinkedIn
Twitter
If you're ready to begin building a passive income through rental real estate, book a FREE call with our team today. We're ready to talk about your goals and want to help you learn more about earning legacy wealth for you and your family.
Ready To Build Passive Income Through Rental Real Estate?
Ready to talk about your goals? We're here to show you the tools and teach you the process to begin earning legacy wealth for you and your family.