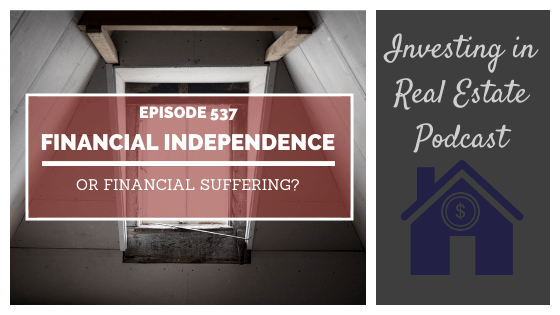 Book a call with our team: https://go.oncehub.com/morrisinvest
Theodore Roosevelt once said, "I wish to preach, not the doctrine of ignoble ease, but the doctrine of the strenuous life." On today's show, I want to dissect what that quote means, and how it relates to your financial outcome.
You'll learn about making sacrifices, getting outside of your comfort zone, and taking risks. I'll talk about the benefits of living a strenuous life, and how you can benefit from living in discomfort. Please join me for episode 537 of Investing in Real Estate!
On this episode you'll learn:
What it means to live a life of ignoble ease.

The importance of following your dreams.

How mindset and finances are linked.

How discomfort can help you grow.

And more!
Episode Resources
Digital Minimalism by Cal Newport
Financial Freedom Academy
Find Your Financial Freedom Number
Subscribe to the Morris Invest YouTube channel
Like Morris Invest on Facebook
If you're ready to begin building a passive income through rental real estate, book a FREE call with our team today. We're ready to talk about your goals and want to help you learn more about earning legacy wealth for you and your family.
Ready To Build Passive Income Through Rental Real Estate?
Ready to talk about your goals? We're here to show you the tools and teach you the process to begin earning legacy wealth for you and your family.