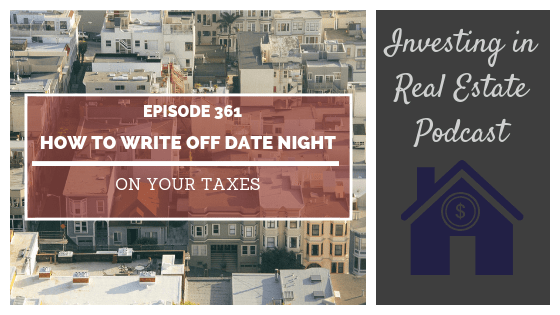 EP361: How to Write Off Date Night on Your Taxes
Book a call with our team: https://go.oncehub.com/morrisinvest/?utm_source=MIblog&utm_medium=MIBlog&utm_campaign=MIblog&Source=MIblog
This episode of Investing in Real Estate is sponsored by RXBAR! RXBAR is a clean label snack bar made with high-quality, real ingredients. Find at Target stores OR For 25% off your first order, visit RXBAR.com/investing and enter code INVESTING at checkout.
Can date night serve as a legitimate business expense? In our experience: yes, but only under very specific protocol. If you want to write off a date night on your taxes, you must be organized and able to prove how a date night benefited your business.
On today's show, Natali and I are sitting down to discuss how to write off your date nights on your taxes. We'll explain how to determine if an expense is legitimate, as well as how to prove it to the IRS. We'll also share specific tools and tips you can use to document your expenses. Don't miss this episode of Investing in Real Estate!
On this episode you'll learn:
What types of purchases can and cannot qualify as a business expense.
How to determine if a purchase is a legitimate expense.
Whether or not you can take cash out of an ATM for a business purpose.
How expenses can lower your overall taxation.
Why you should track your expenses and keep your receipts.
How to differentiate business mileage from personal mileage.
How do you avoid comingling.
And much more!
Episode Resources
RXBar
NeatReceipts
Automatic
Subscribe to Investing in Real Estate on Apple Podcasts
Find Your Financial Freedom Number
Subscribe to the Morris Invest YouTube channel
Like Morris Invest on Facebook
If you're ready to begin building a passive income through rental real estate, book a FREE call with our team today. We're ready to talk about your goals and want to help you learn more about earning legacy wealth for you and your family.
Ready To Build Passive Income Through Rental Real Estate?
Ready to talk about your goals? We're here to show you the tools and teach you the process to begin earning legacy wealth for you and your family.