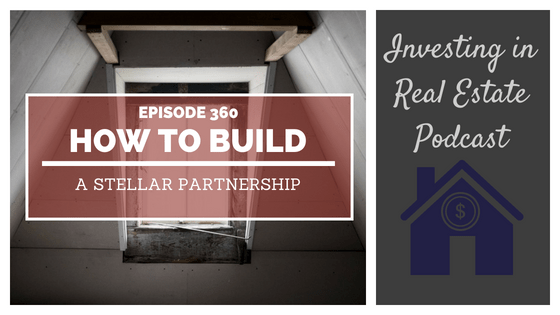 EP360: How to Build a Stellar Partnership
Book a call with our team: https://morrisinvest.com/book-a-call/
This episode of Investing in Real Estate is sponsored by Vistaprint. With Vistaprint, you can create a truly professional, unique business card in minutes. Vistaprint is offering you  500 high-quality, custom business cards starting at $9.99. Visit Vistaprint.com and use code INVESTING.
Before you start purchasing real estate on your own, you might want to consider the benefits of working in a partnership. However, it's important to vet your partners and go into business with the right types of people.
On this episode of Investing in Real Estate, I'm sharing five qualities of a stellar partnership! You'll learn about the importance of accountability, how to work from your core values, and so much more! Don't miss episode 360!
<div
class="sqs-audio-embed"
data-url="http://traffic.libsyn.com/investinginrealestate/investing360.mp3″
data-mime-type=""
data-title="EP360: How to Build a Stellar Partnership"
data-author="Investing in Real Estate with Clayton Morris"
data-show-download="false"
data-design-style="minimal"
data-duration-in-ms=""
data-color-theme="dark"
On this episode you'll learn:
How to practice accountability within a partnership.
The importance of being honest with your level of commitment.
Why open-mindedness is crucial for success.
How to practice healthy debate within a partnership.
What it means to share core values.
And much more!
Episode Resources
Vistaprint
Subscribe to Investing in Real Estate on Apple Podcasts
Find Your Financial Freedom Number
Subscribe to the Morris Invest YouTube channel
Like Morris Invest on Facebook
If you're ready to begin building a passive income through rental real estate, book a FREE call with our team today. We're ready to talk about your goals and want to help you learn more about earning legacy wealth for you and your family.
Ready To Build Passive Income Through Rental Real Estate?
Ready to talk about your goals? We're here to show you the tools and teach you the process to begin earning legacy wealth for you and your family.