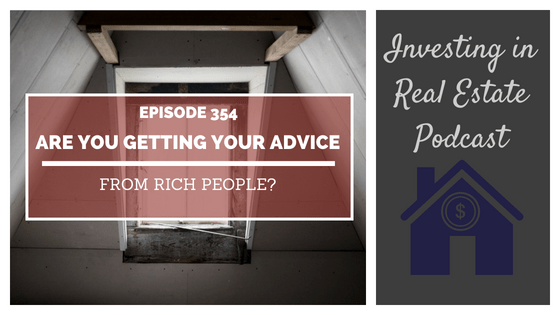 EP354: Are You Getting Your Advice From Rich People?
Book a call with our team: https://go.oncehub.com/morrisinvest
Along your wealth building journey, you're likely to hear a lot of opinions and advice—solicited or not. Advice can be valuable, but it's important to make sure it's coming from a knowledgeable and trusted source.
On this episode of Investing in Real Estate, I'm imploring you to consider where your financial advice is coming from. You'll learn what it truly means to be financially free, how to determine whether or not your financial advisor has your best interests in mind, and much more! Please join me for episode 354!
On this episode you'll learn:
What it actually means to be financially free.
The definition of fiat currency.
Why you shouldn't take advice from people who are employees or self-employed.
The truth about government backed currency.
Why being financially free is not about a certain amount of money.
Two reasons why Warren Buffett says you should be wary of financial advisors.
What questions you should ask a financial advisor.
The two main reasons why financial advisors don't talk about real estate.
Which books are important for wealth building.
And much more!
Episode Resources
EP234: Why Financial Advisors Won't Talk to You About Real Estate – Interview with Brent Sutherland
Subscribe to Investing in Real Estate on Apple Podcasts
Find Your Financial Freedom Number
Subscribe to the Morris Invest YouTube channel
Like Morris Invest on Facebook
If you're ready to begin building a passive income through rental real estate, book a FREE call with our team today. We're ready to talk about your goals and want to help you learn more about earning legacy wealth for you and your family.
Ready To Build Passive Income Through Rental Real Estate?
Ready to talk about your goals? We're here to show you the tools and teach you the process to begin earning legacy wealth for you and your family.