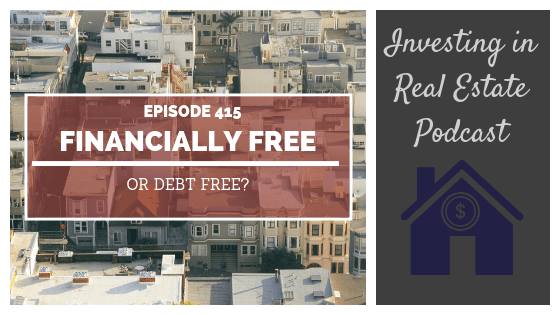 Book a call with our team: https://go.oncehub.com/morrisinvest
Today's episode of Investing in Real Estate is sponsored by Robinhood! Robinhood is an investing app that lets you buy and sell stocks, ETF's, options, and cryptos- all commission-free.  Robinhood is giving our listeners a FREE stock like Apple, Ford, or Sprint to help build your portfolio! Sign up at http://investing.robinhood.com.
In the financial realm, there's often talk about the power of being debt free. However, we like to focus on financial freedom instead. Debt is not inherently evil—in fact, it can serve many purposes.
On today's show, Natali and I are sitting down to discuss why being financially free is more empowering than being debt free. We'll talk about the benefits of being appropriately leveraged, and how to determine what types of debt are important to eradicate. You'll learn about debt as a form of asset protection, and how to think of your finances as a balancing act.
On this episode you'll learn:
What it means to protect your castle.

Whether or not you should use debt to purchase assets.

How debt can serve as asset protection.

Where the word "loophole" originates from.

What it means to think of debt as a teeter totter.

How you can protect your primary residence.

And much more!
Episode Resources
Robinhood
Subscribe to Investing in Real Estate on Apple Podcasts
Find Your Financial Freedom Number
Subscribe to the Morris Invest YouTube channel
Like Morris Invest on Facebook
If you're ready to begin building a passive income through rental real estate, book a FREE call with our team today. We're ready to talk about your goals and want to help you learn more about earning legacy wealth for you and your family.
Ready To Build Passive Income Through Rental Real Estate?
Ready to talk about your goals? We're here to show you the tools and teach you the process to begin earning legacy wealth for you and your family.