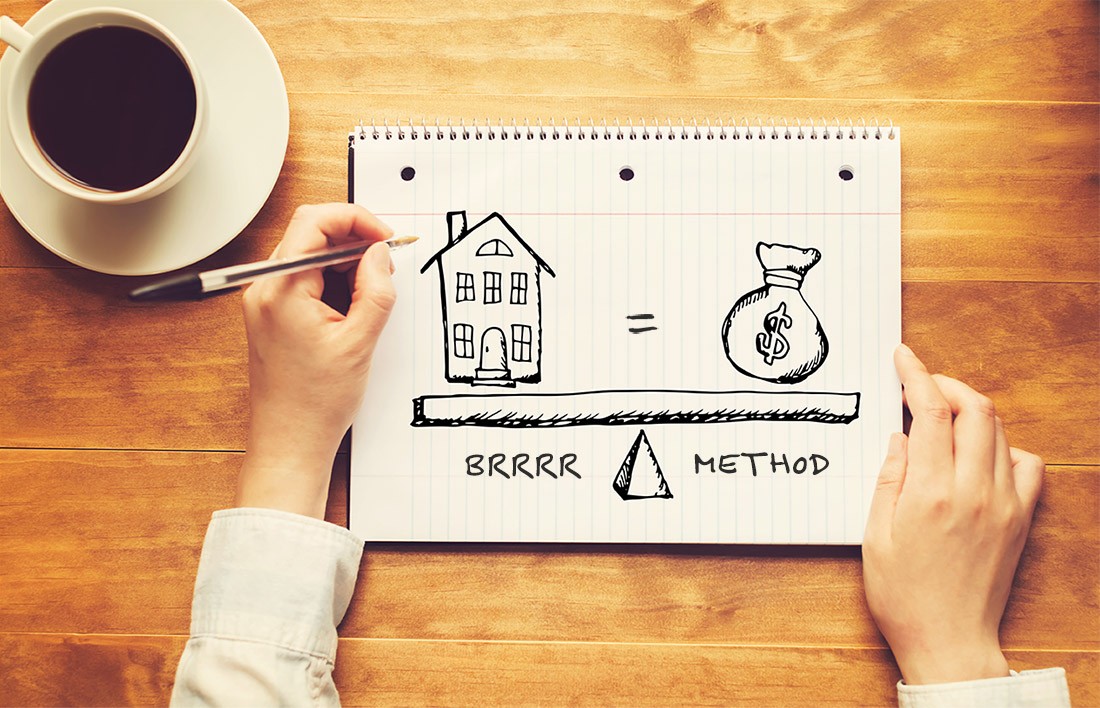 During my 15 years of investing in rental properties, I've never come across a strategy that is more effective in increasing monthly cash flow than the BRRRR method. I've been able to grow my real estate portfolio very quickly using this strategy, and maximize my cash flow each month along with it. Additionally, the steps taken in the BRRRR method allow for an easy approach to reaching typical investing goals. This includes generating passive income, setting up a steady cash flow, achieving a high ROI, and the like.
Now that your interest has most likely been sparked, let's dive into the BRRRR method for real estate investing to find out what it's all about and how it can boost your monthly cash flow through rental income.

What is the BRRRR Method?
The BRRRR method consists of taking certain steps in a specific order, and then repeating those steps over and over again. Each time this set of steps is completed, the end result would be an addition of a rental property to your portfolio and a bump in your monthly cash flow. Each step is represented by a letter, which in turn, stands for a word that represents the action to be taken: BRRRR = Buy, Rehab, Rent, Refinance, Repeat.
This real estate strategy is attractive to investors because after the first property is purchased (Buy), and then (Rehabbed), (Rented), and (Refinanced), the BRRRR method enables the investor to buy another property (Repeat), without having to come up with the funds for the down payment. This is accomplished through real estate leverage – the money that's obtained during the refinancing stage is used to fund the next deal. It's been proven to be a brilliant way to leverage real estate to invest in buy and hold properties.
BRRRR – Breaking it Down a Little Further
Here is a description of each BRRRR step so you have a better understanding of how the process works.
1. BUY:
The BRRRR process starts with buying a rental property. It's crucial to perform the proper research and buy real estate that is at least 20 percent below the market value. These are typically properties that are distressed or have issues. The investor's goal is to get back as much money as possible on the property during the refinancing stage. So, buying a property that is priced below the market value and then raising the value through rehabbing is essential. When it comes to purchasing your first BRRRR property, if you don't have all the money needed for the down payment, you can look into having Fund & Grow assist you. They come highly recommended when an investor is in need of money to start the BRRRR method. Go to the Morris Invest funding page to see if this funding strategy is right for you.
2. Rehab:
Most times, the reason the investor is able to buy below the market value is because the property is in need of repairs. So, rehabbing the property is a key element in boosting its value so the BRRRR process can play out successfully. Increasing the value, combined with the fact that the purchase price was well below market value, puts the investor in a good place when it comes time to attempting real estate leverage. It's crucial to upgrade or repair only what's necessary when rehabbing. For instance, installing real granite countertops is expensive, but placing Formica laminate countertops is a fraction of the price, and most can't tell the difference. Spending more money than what's needed on repairs can break the BRRRR cycle, with the end result of not having the appropriate funds to buy the next property.
3. Rent:
Once the property is fully renovated, it's time to rent it out to a tenant. Having a tenant in place sooner rather than later will provide you with monthly cash flow right from the start. Additionally, it will up your chances of successfully leveraging your rental property when you start the refinancing process. The loan provider will see that your property is rentable and provides steady cash flow. This shows them there is less risk when it comes to refinancing the property.
4. Refinance:
This is the step that makes the BRRRR strategy extremely popular. Why? Because it's the main vehicle for buying the next property. Once a little time has passed with a renter in place, the investor would start the refinancing process. A bank will typically refinance for about 75 to 80 percent of the property value. So, let's say the property was purchased for 20 percent below market value. This means the investor is actually paying 80 percent of the market value for the property. After the purchase, the value of the property is then raised through rehabs. At this point, when the bank refinances for 80 percent, this equates to the investor receiving all the money they originally invested, and more. A portion of this money is then used to buy the next property. It's called the magic of real estate leverage, and what makes the BRRRR method so perfect.
When your goal is to leverage real estate, the best refinancing strategy to use with the BRRRR method is a cash-out refinance. View this informative video that covers the topic:
5. Repeat:
After the investor completes the first four steps of the BRRRR strategy: Buy, Rehab, Rent, Refinance, it's time for the fifth step, which is repeating the process. Investors can easily repeat this process over and over again, without having to worry about coming up with the funds to purchase each piece of real estate. It makes for a great way to bulk up a rental real estate portfolio, as well as increase monthly cash flow.
Once the BRRRR steps are completed, and you have your rental fully functional, you would benefit from utilizing income and expense tracking software. The Landlord Studio app comes highly recommended for this purpose. You can read more about what they offer investors on the Landlord Studio website.
Example of the BRRRR Method in Action
The following is an example of BRRRR strategy numbers, without closing costs and other various fees factored in, just to provide you with a simple case study:
Step 1 – BUY: 
The property had a purchase price of $125,000
Made a down payment of $25,000
Took out a loan for the remaining balance of $100,000
Step 2 – REHAB:
Perform rehabs/repairs of $20,000
Step 3 – RENT:
A tenant is placed and pays $1,300 a month
Step 4 – REFINANCE: 
Property was appraised for $195,000 after the proper seasoning period
A loan was approved for 75% of the appraised value ($195,000 x .75 = $146,250)
Used the new loan of $146,250 to pay off the original loan for $100,000
$46,250 is left over in cash
Step 5 – REPEAT:
Used the $45,250 to make the down payment and pay for rehabbing costs for the next property
This investment strategy can be repeated as many times as possible until he or she reaches their goal of a monthly cash flow that will allow them to be financially free. If you would like to calculate how many rental properties you may need to reach your financial independence, you can use our free Freedom Cheat Sheet to find the answer.
If the steps above seem a little overwhelming to you because you're new to real estate investing, read through this Forbes article that covers six real estate investing rules for beginners. It can give you a basic head start for investing in real estate.
Example of Monthly Cash Flow Created Through the BRRRR Strategy
Before we dive into this example, let's make sure we're on the same page as to what cash flow is: When it pertains to rental real estate, cash flow is simply the money that is remaining at the end of the month, after the rent checks have been received, and the expenses have been paid. For a full description of this term, head over to Wikipedia's definition of cash flow.
This is a simple example of typical monthly rental property cash flow based on the BRRRR method example above. This example assumes the renter will be paying all utilities. Each investor will have varying numbers and may have additional expenses:
Monthly Rent Received: $1,300
Monthly Mortgage: $450
Property Insurance: $50
Property Taxes: $100
Repairs/Maintenance Savings: $60
Property Management Fee (10%): $130
CapEx (Saving for big-ticket items that may need to be replaced): $65
Vacancy Cost Savings (5%): $65
Total Monthly Cash Flow: $380
If you feel that $380 may not sound like a large sum of money, this is actually a good number for monthly rental cash flow. Imagine owning ten rental properties. This number then becomes $3,800 per month. Or, if you keep the momentum going with the BRRRR method, and over the years, you have 20 properties in your real estate portfolio, then that number turns into $7,600 per month. Of course, each property will have a different set of numbers, but you get the idea.
BRRRR Method Pros and Cons
Every good strategy has its pros and cons, and it's important to weigh in on both sides. With that said, below is a summary of the advantages and disadvantages of the BRRRR method. This can give you a more well-rounded view of this excellent buy and hold real estate strategy.
Advantages of the BRRRR Method
Utilizing the BRRRR approach can provide a real estate investor with quite a few benefits. Let's dive into the top four advantages so you can see why it's such a popular investment strategy:
1. The BRRRR Method Builds Equity that Boosts an Investor's Net Worth
When properties are bought below the market value and then rehabbed, it becomes an instant equity boost. Then take into account that as time passes, the property's equity will be raised even more. It's a great way to build up an investor's net worth.
2. The BRRRR Process Sets Investors Up with a Steady Stream of Passive Income
Real estate investors are normally in the business for a few reasons. It may be to become financially independent or to create passive income so they can skip the 9-5 lifestyle. What is passive income? It's income that you receive with little to no effort. For instance, once a tenant is placed in a rental, and a property manager takes care of everything else moving forward, the investor receives a steady rent check like clockwork each month. This means that money will continue to roll in even while the investor is on a three-month vacation – this is the beauty of passive income created through the BRRRR method.
3. Monthly Cash Flow is Increased Each Time the BRRRR Steps are Taken
Cash flow is the end result that real estate investors strive for as they go through each step of the BRRRR method. This real estate strategy enables investors to keep boosting their monthly cash flow. It's up to the investor to determine how many rental properties they would like to add to their portfolio, and in turn, how much cash they would like to flow into their pocket every month.
4. Real Estate Investors Can Buy Properties without Using Their Own Money
As mentioned, one of the main attractions of using the BRRRR method is how it provides the opportunity to buy a property without having to come up with a huge sum of money for the down payment. Getting together the funds for a down payment is one issue that prevents individuals from moving forward on lucrative real estate deals. The BRRRR strategy eliminates this problem. After the first property is purchased, they can simply refinance the property and use that money to fund the next deal.
Disadvantages of the BRRRR Method
As with all good strategies, you will always want to confirm what the cons may be. This will make sure all your bases are covered. Here are two cons that real estate investors try to avoid when utilizing the BRRRR strategy:
1. Rehabbing Costs & Time Miscalculations Cut into Expected Cash Flow
To get the best outcome from the BRRRR strategy, it's important to ensure that rehab costs are within budget. Additionally, it's essential that the work is done within the estimated timeframe. If the investor is new to the world of rehabs, repairs, and working with contractors, projects may not always go as expected. Plus, even with seasoned investors, there can be unexpected issues and delays. This can all cut into the funds that would have gone to the down payment and rehabbing of the next deal. It can also delay the start of monthly cash flow.
2. Appraisal Turns Out to Be Much Lower Than Anticipated
There could be nothing worse than going through the steps of the BRRRR process only to have things come to a halt during the refinancing stage. This can happen when the appraisal amount the investor was banking on turns out to be much lower than expected. When this occurs, the money that they were planning on using to fund the next deal is not available. Although sometimes this can be out of the investor's control, they can reduce the risk of this happening by doing the proper research and making sure their calculations are spot on.
How to Find Properties for the BRRRR Method that Have the Best Cash Flow Potential
When on the lookout for potential lucrative BRRRR real estate, the main objective is to locate off-market properties. Real estate that is not listed on the market is typically sold at a much lower price due to being distressed or having other issues. This is all part of the BRRRR strategy. The investor can repair the issues which will raise the property value.
There are multiple ways to find properties that are perfect for the BRRRR method. This section will cover two strategies that are best for ensuring the highest cash flow potential. Both strategies include the help of real estate professionals that specialize in locating profitable BRRRR method properties. This will up the investor's chances of getting the best deal, and therefore, maximizing their monthly cash flow.
For a full overview of various ways to locate off-market properties for the BRRRR strategy, take a moment, and watch this video on the subject:
Work with a Real Estate Wholesaler
Investors who want their BRRRR project to yield the most cash flow will benefit from utilizing a real estate wholesaler. A professional wholesaler not only does all the work locating properties (freeing up more of your time), they also know how to find real estate that has the highest ROI/monthly cash flow potential.
Here is a brief summary of the steps a wholesaler will take to provide an investor with a profitable piece of real estate:
A wholesaling professional starts with scouting out below market value properties that are best for implementing the BRRRR method.
Once an appropriate piece of real estate is found, they proceed to contact the property owner.
The wholesaler and the owner decide on a price to place the property under contract for.
The contract price is then marked up by the wholesaler (higher price than what the owner and wholesaler agreed to)
This contract is presented to an interested investor who signs it.
The wholesaler keeps the difference in the contract price, so a profit is made, and the investor gets a below the market value property handed to them.
If you're not familiar with wholesaling and you're interested in learning more about it, visit our Wholesaling Course page for more information.
Utilize a Full-Service Real Estate Investment Company
One very efficient way to obtain a BRRRR property is to use a full-service real estate company, such as Morris Invest, which specializes in off-market properties. This is a wise choice for investors who have little experience in finding BRRRR method properties. Even investors with years of experience can benefit from working with an investment company. Why? Because it can free up the investor's time to focus on other projects.
A full-service real estate company can take care of every detail for the investor. Companies such as this have the know-how to ensure the investor's BRRRR project will yield a high ROI. Here are some tasks that a company such as Morris Invest can take off your to-do list:
If money is needed for the down payment of the first BRRRR property purchase, if applicable, Morris Invest can set-up a self-directed IRA on the investor's behalf. If you're not familiar with this funding strategy, read more about it by visiting our article – Investing in a Self-Directed IRA.
Market research is done for you, which will yield properties in locations with a high cash flow potential.
Timely renovations are completed by a team of hand-selected contractors.
A property manager is assigned, so all tenant relations are taken care of moving forward.
A tenant is placed right after the renovations are completed, so rent checks flow in immediately.
To see a full list of methods for finding rental real estate that's priced appropriately for the BRRRR method, head over to our article – How to Find BRRRR Properties – A Guide for Real Estate Investors. Additionally, you should check out this software designed by DealCheck that analyzes the profitability of a property. It will ensure you don't waste your time with properties that are not lucrative.
Tips for BRRRR Strategy Rehabbing that Can Increase Monthly Rental Income & Profit Margin
Rental property investors will want to ensure that the rehab costs make sense for the class of neighborhood they are in. There is no need to overspend on items that are not necessary. It will only cut into your profit margin. Investors should also realize that certain renovations will boost their ability to increase monthly rental income.
Read through these tips that can help investors make the right decisions during the renovation stage of the BRRRR method:
1. Start with the Main Mechanics of the Rental Property
Real estate investors should start the rehabbing process by checking on the main mechanics of the property. This is because it would be a bad idea, or even dangerous, to place a tenant in a rental when the electrical is not up to code, and so on. Additionally, replacing the main mechanics when necessary will also reduce operating costs for the investor because it reduces frequent repairs. The main mechanics that are essential to have in good operating condition would be the electrical components, roof, windows, water heater, furnace, and plumbing.
2. Painting the Exterior & Interior Walls Increases Monthly Rental Income
During the rehab stage of the BRRRR method, don't overestimate the power of a professionally painted rental. It can mean the difference between a low or high rental income. If the outside of the property has a shabby paint job, potential tenants may just keep driving by! This is because the outside of the property may be a reflection of what the inside will look like. It can give the appearance of a poorly run rental property. Painting is part of normal renovations and is not too expensive. The inside of the property should be professionally painted as well. You will want a tenant to feel like this can be their home. Making sure the paint looks fantastic can do the trick and will attract tenants that are willing to pay higher rent.
3. Attractive Kitchen Cabinets Can Maximize Profits
If the kitchen cabinets look bad – doors off the hinges, paint peeling, and just old in general, you will want to do something about it. Potential tenants notice if the kitchen area looks less than desirable. This could cause you to lose quality renters. Because of this, it's important to repair, paint, or replace. If real wood cabinets are already in place, you can simply refinish them, and replace handles, and so on. For those cabinets that are in good shape and just need a simple paint job, check out this article from HGTV on repainting kitchen cabinets. If the cabinets are a lost cause, talk to a few local contractors to see if they have any recommendations on where you can buy affordable replacements. It's well worth the effort because it can increase monthly cash flow and boost the value of the BRRRR property.
4. Justify Higher Rent with Beautiful & Affordable Wood-Like Flooring
There is just something about a home with wood flooring. It looks modern, clean, and it's easy to take care of. Additionally, installing an alternative to carpet can reduce your costs in the long run. It will eliminate the need to change out the carpet with each new tenant. On top of that, you can place laminate flooring that has the appearance of real wood flooring for a fraction of the price. This type of flooring will have a great first impression on the potential tenant. It can also allow for charging a higher rent, which will increase your cash flow intake.
To see more tips on getting a BRRRR method rental property into shape, dive into our article that covers property upgrades.
Additional Real Estate Articles by Morris Invest
For even more information on the BRRRR process, you can read over our other article on the topic – The BRRRR Method for Real Estate Investing. Also, if you're trying to gain as much knowledge as possible on the subject of investing in real estate, then read a few of these Morris Invest articles that cover all aspects of the subject:
Use the BRRRR Method to Quickly Boost Your Monthly Cash Flow!
Implementing the BRRRR strategy can easily increase your real estate portfolio and your cash flow. This is what most investors aim for and why the BRRRR method is so popular. If you're ready to start your BRRRR adventure and want the whole process to be super simple for you, feel free to schedule a complimentary call with Morris Invest. We can take care of every step of the BRRRR method for you and provide you with a cash flowing rental property that will set you on the path to financial independence.
Now that you have a good understanding of the BRRRR method, you might be interested in watching this video that contains a summary of the process, as well as additional information:
Ready To Build Passive Income Through Rental Real Estate?
Ready to talk about your goals? We're here to show you the tools and teach you the process to begin earning legacy wealth for you and your family.