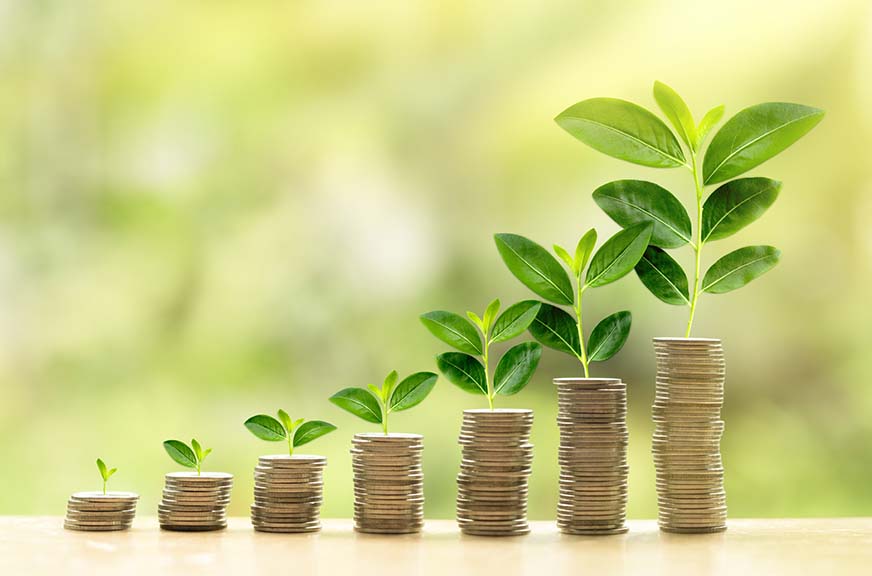 If you would like to invest in buy and hold properties, but feel you just can't come up with the money to get started, simply dive into our Fund & Grow review to learn more about how you can make it a reality. You may just find that obtaining the money you need to purchase rental real estate is easier than you think.
Fund & Grow Provides Unsecured Credit to Buy Cash Flowing Properties
The most common question I get about real estate investing is this: How do I get started in real estate with no money? When someone asks me this, I assume this does not mean they have no money to live on. It must mean that most of their money is spoken for by bills, liabilities, daily life. This is a common way to live! Most people don't just have thousands of dollars to start buying up assets so that they can build financial freedom. I get it and I've been there!
There are dozens of creative answers to this question and one of my favorites involves Fund & Grow.
We have been through the Fund&Grow process twice in our family and we have acquired awesome cash flowing properties as a result. This is why we are taking the time to write this Fund & Grow review to share valuable information and to answer a few questions you may have. Is it easy? Will it be cheap? Is it worth it? Let's discuss!
How Does Using Fund&Grow to Buy Rental Properties Work?
Fund&Grow is a company that helps you find cash to use for investing by helping you qualify for business credit cards. These cards offer 0% interest for an introductory amount of time. The point is for you to take that money and use it to buy a performing asset while there is no interest on your money!
While the 0% interest rate is expiring, you pay down as much principal as you can and refinance into a favorable bank loan. Banks may not lend to you favorably to buy a property, but they are always willing to refinance something you already own! There is collateral now! You own it! And you bought it with 0% interest and now have some equity after about a year of paying down the cards! That's the plan anyway!
Fund&Grow secures you these credit cards by going over your current financial situation, coming up with a personalized plan, and then sending their hunting dogs out to find you some working capital! Note: No real dogs are used or harmed in this process.
Is It Easy to Get a large Low Interest Business Credit Line?
Fund&Grow employees are extremely tenacious about getting you the most amount of money they possibly can. They begin with initial approvals on business credit cards but they only see those approvals as the initial offer. After you are approved, they dive right back in and renegotiate the terms of the cards, because everyone should be doing that on a regular basis! Credit cards are more flexible with their terms than you might originally know! They will not stop until they think that they have secured the most amount of money that they can for you. That part is easy. You just watch them go to battle for you!
The part that happens just before that is not so easy. They will ask you for all kinds of personal information about your finances. They want to know everything on your credit record and what your current liabilities are. You have to be organized and patient enough to give them the information correctly. If you're the kind of person who has all of this information in a shoebox, you will not find this step pleasant. But it could also be the kick in the pants you need to get organized!
They Help Clean Up Your Credit Report Which Brings in Even More Money
Fund & Grow can also refer you to experts that help fix errors or discrepancies on your credit report. I had a $1 Visa bill that was outstanding for several years that I never knew about. The bank was supposed to have closed that card and they did, with $1 outstanding. I never knew about this and Fund & Grow's credit repair partners helped me get that cleaned up!
Also, once you are successful and credit cards start to roll in, it is on you to be organized with them! You have to remember when the 0% interest expires. Additionally, you have to remember the credit line on each of them, as well as manage your sign-ins. This money is for you and it's your responsibility. We created a spreadsheet to manage our cards so that we wouldn't forget.
Is It Cheap to Get Started?
Cheap is a relative word, isn't it? Fund & Grow costs about $4,000 to work with them, but consider the alternatives:
You could try to secure a business line of credit, but we have paid $10,000 for that in the past. I would gladly pay $4,000 over $10,000 for the same amount of working capital.
You could try to get a loan on a property you are trying to buy from a bank. You will have to front the cash for an appraisal, inspection, loan initiation, closing costs, and possible points on the loan, which will run you on average at least $4,000. Also, remember that you will have to pay at least 20% the value of the property yourself. Banks don't finance 100% of the properties any longer.
You could try to use a hard-money lender to purchase a property. However, they require between 20-30% down, and we are trying to solve the no-money-to-invest problem, right? Also, these loans can be expensive! Believe me, I know.
When you consider your options, $4,000 is not very much money to get 0% interest cash to begin to invest! Additionally, you can save $500 from the start by signing up with Fund & Grow through Morris Invest.
How Long Does It Take to Receive the Money Needed to Buy Real Estate?
The time it takes you to go from applying for your unsecured business cards and actually having cash to work with is about 6 weeks in my experience. This makes Fund&Grow a valuable asset for quickly getting started in real estate investing, or just growing your portfolio.
Is the Process Worth It?
You should never listen to someone who will tell you something is worth it for everyone. No financial product is one-size-fits-all and you have to understand some things about yourself:
Why don't you have money to start with? Is it because you're busy with liabilities and wasteful spending?
Are you organized enough to gather your financials and manage multiple cards?
Is it difficult for you to not use credit cards on things that are NOT assets?
Do you understand that this debt will be yours to manage and the asset should be refinanced before the interest rate kicks in?
Do you have the time to put into that process?
If you understand those things about yourself and think you can handle this responsibility, then Fund & Grow is absolutely a great product! It is less expensive than most loan products and the customer service is stellar!
We Hope Our Fund & Grow Review Has Set You On the Path to Easily Purchasing Buy and Hold Properties
We encourage you to book a call with one of their advisors and ask the questions that are on your mind regarding utilizing Fund&Grow to invest in rental properties. The end result could just be that you've got a cash flowing property that you would not have otherwise had in far less time than you thought you could ever get started in real estate investing!
For even more details, watch this exceptional video that features the Chief Operations Officer from Fund&Grow. He walks you through the process of pulling money from credit cards to purchase buy and hold properties. Also, don't forget to take advantage of receiving $500 off Fund&Grow's start-up costs.
Ready To Build Passive Income Through Rental Real Estate?
Ready to talk about your goals? We're here to show you the tools and teach you the process to begin earning legacy wealth for you and your family.