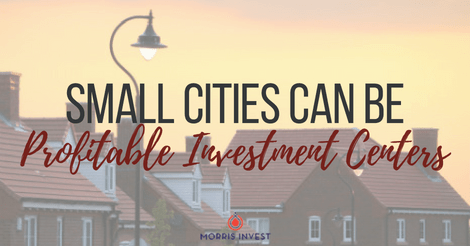 When you think about investing in real estate, your first thought might be buying a duplex or apartment building in a big city. Or, perhaps you want to buy a fixer-upper in an area that's experiencing a revitalization. However, don't overlook small towns as a place to invest your dollars and build a residual income that pays year after year.
Here are a few benefits small towns offer from an investment standpoint over big cities.
1. Get Into the Market Cheaper
Homes in large cities tend to cost quite a bit more than homes of a similar size and condition in small towns. In one survey of the 10 most expensive cities, the average cost of a home was $587,090. On the other hand, the most affordable smaller towns had a median home price of only $98,385. For those just getting into real estate investment, the lower price point is attractive.
2. Scope out the Attractions
That said, not all small towns are equal. When looking for an investment property, pay attention to what the town has to offer. Is there some development that's attractive to both younger and older generations?
There's something to be said for investing in a friendly small city that would attract a lot of potential renters. Those within commuting distance of urban centersmay see an uptick in growth. A renewed focus on small business creates a mix of unique bars, breweries, upscale dining and casual restaurants.
For your part, choose a small town where new businesses are on the uprise. Is there enough to attract a variety of renters? 21% of renters are under 30, a sizeable demographic increasingly likely to desire a balance of community attractions and low-cost standards of living — thanks to a growing student loan debt burden.
3. Gauge the Future
The trick to finding profitable investment opportunities is seeking out areas that are not yet revitalized, but trending toward that. That isn't an easy thing to gauge. It requires knowledge of markets in the area and studying trends carefully.
Some things you'll want to look for include a 90-minute-or-less commute to a big city, cell reception, high-speed Internet availability and a minimum increase of 7 percent young people moving into the area in the last five years.
4. Reduce Competition
In a big city with few rentals and multiple investors, you may struggle to enter into the real estate market. Before you can purchase a property, someone else snatches it out from under you. In a small town, the competition isn't as fierce. Instead of getting into a bidding war, you'll likely make an offer and have the seller accept before anyone else expresses an interest in the property.
That allows you to jump right into the investment market without spending months trying to secure a property. Because the entry point is lower, you free up working capital, and you may be able to secure several rental properties in a small town and rent them out in the time it would take you to locate a single property in a big city.
Consider Going Small
For many other reasons, renting in a small city is ideal. Even though you'll get higher rental rates in a large urban region, a small-town investment center may be just what you need to get started or expand your real estate investments. Look at the towns surrounding the nearest big city that are within an hour or so drive and expand your investment possibilities. You'll likely discover many additional investment opportunities you otherwise wouldn't have considered.
Holly Welles is the editor behind The Estate Update, where she shares real estate tips and ideas for home fixes. She's passionate about staying on top of recent market trends despite her impractical love for the oldest houses in town. 
Ready To Build Passive Income Through Rental Real Estate?
Ready to talk about your goals? We're here to show you the tools and teach you the process to begin earning legacy wealth for you and your family.