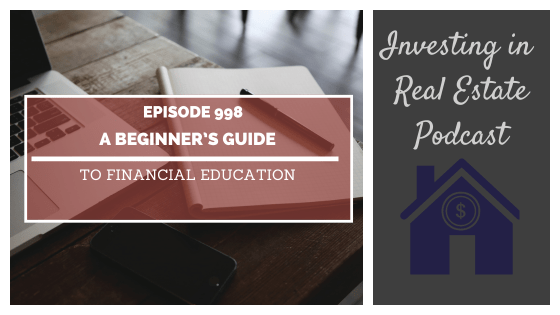 Building your financial education is a necessity for reaching any type of financial goal. Whether you're trying to pay off credit card debt, select a banking product, or invest in real estate, it's important to build a solid foundation of knowledge that will allow you to make smart decisions and ultimately reach your goals.
But if you don't feel like you have a very strong hold on your financial education, this episode is for you. We're going to dive into specific action steps and mindset shifts you can begin implementing today to start building your financial education, brick by brick. Get ready to take notes, because you're about to learn some of the most essential tips you can use to change your finances for good.
More About This Show
Take responsibility. First, I do want to say that your lack of financial education is not entirely your fault. The system is designed to keep you out of the loop. Financial education isn't taught in schools, it's not accessible, and frankly it's one of those topics that people just don't talk about. However, going forward is your responsibility. None of us can go back and change the past, but you can forge a new path forward. Get dedicated and start building your financial education consistently. Carve out a block of time every week, or better, every day, to learn more about finances and building wealth. You have to be committed and take the initiative. If you're watching this video, that's a great start. I'm also going to link a blog post for you below that lists five books for building financial intelligence to help you begin on your path. And here's something you need to understand: there's not one path to building wealth. Your journey is going to be unique, and it's going to take you down your own path. Unfortunately, there's not a system you can follow; you have to create your own way. I suggest starting with something that is interesting to you. As you learn, you're going to find different financial topics and strategies that appeal to you. You might not be ready to learn about topics like estate planning or tax strategies just yet. That's ok! Just take it one step at a time, and no matter what you do, continue learning.
Learn about the power of performing assets and how to make your money work for you. There are many different lessons to learn on your financial education, but understanding performing assets is at the foundation. A performing asset is an asset that can generate regular income without you putting work into it. You might think of things like your primary residence, your savings account, or your car as an asset… but if those things aren't putting cash in your pocket on a monthly basis, they're not performing assets. Buying performing assets like real estate can help you in so many areas, including building your net worth, reducing your tax burden, generating monthly income, and more. Once you get this lesson under your belt, you can change the course of your financial future.
Understand the difference between good debt and bad debt. You've probably heard that debt has the potential to destroy your finances, and that's true. But if you villainize all debt, you'll be missing out on opportunities. Consider how to use debt as a tool to reach your goals. Let me give you an example. Let's say you use financing like a mortgage to buy a rental property that creates monthly cash flow. As long as you buy the right asset, you should be able to cover your mortgage with the monthly rent you receive from your tenant, with some to spare. In this scenario, your mortgage is classified as good debt because it's allowing you to own performing assets, build your net worth, and create monthly cash flow.
Find your Freedom Number. The Freedom Number is a concept I developed years ago on my own quest for financial intelligence. Truly, the Freedom Number was born out of my own frustration. It felt like every penny from my day job went toward paying off liabilities, and although I had a high-paying salary, I still struggled to pay my mortgage. I knew things needed to change, so I created this formula to help determine how many rental properties I would need to cover my monthly expenses. And while the Freedom Number Cheat Sheet has evolved over the years, the concept stays the same. This is a powerful formula that can help you understand your expenses and determine how to plan your way to financial freedom. You can download the Freedom Cheat Sheet for free on my website, at morrisinvest.com/freedom
Don't underestimate the power of your mind. It's easy to reduce financial education down to just numbers on a spreadsheet. But the truth is that building wealth often takes a lot of introspection of limiting beliefs and unlearning of habits. It sounds simple, but this is often the hardest part.
Episode Resources
Book a Call with Our Team
5 Books for Building Financial Intelligence 
morrisinvest.com/bootcamp ← Download your FREE 90-Day Bootcamp!
Subscribe to Investing in Real Estate on Apple Podcasts
Find Your Financial Freedom Number
Subscribe to the Morris Invest YouTube channel
Like Morris Invest on Facebook
DISCLAIMER: I am not a financial adviser. I only express my opinion based on my experience. Your experience may be different. These videos are for educational and inspirational purposes only. Investing of any kind involves risk. While it is possible to minimize risk, your investments are solely your responsibility. It is imperative that you conduct your own research. There is no guarantee of gains or losses on investments.
AFFILIATE DISCLOSURE: Some of the links on this channel are affiliate links, meaning, at NO additional cost to you, I may earn a commission if you click through and make a purchase and/or subscribe. However, this does not impact my opinion. We recommend them because they are helpful and useful, not because of the small commissions we make if you decide to​ use their services. Please do not spend any money on these products unless you feel you need them or that they will help you achieve your goals.
Ready To Build Passive Income Through Rental Real Estate?
Ready to talk about your goals? We're here to show you the tools and teach you the process to begin earning legacy wealth for you and your family.