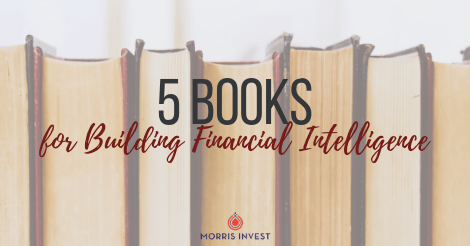 Have you ever thought about what it really takes to build financial intelligence and create wealth? It's a much more complicated process than simply changing the numbers on your balance sheet. Building wealth typically entails undergoing a huge mindset shift. It also means unlearning the widely-held beliefs you've been taught about the American dream, saving for retirement, and reevaluating your personal limiting beliefs about money.
In this post, we're sharing five books that completely overhauled the way we thought about finances. The topics cover everything from mindset shifts to tax strategies. We hope you will find something that resonates you in this list so that you can build financial intelligence and be on your way to financial freedom!
A Happy Pocket Full of Money by David Cameron Gikandi – We believe that changing your financial situation begins with changing your mindset. Most of us have limiting beliefs and perceptions about money that do not serve us. A Happy Pocket Full of Money will help you build your wealth consciousness and experience true abundance in your life.
Rich Dad Poor Dad by Robert Kiyosaki – If you're familiar with our podcast or YouTube channel, you probably already know that we are big fans of Rich Dad Poor Dad. This book is often touted as the #1 personal finance book of all time, for good reason! Rich Dad Poor Dad is all about shifting the existing paradigms you have about money. It will help you gain perspective about how to make your money work for you, investing wisely, and taking control of your finances.
How to Pay Off Your Mortgage in 5 to 7 Years by Clayton and Natali Morris – Shameless plug here—this one is our book! After discovering a method that allowed us to pay off our mortgage in a few short years, we knew we had to share this strategy with the world! This book will walk you through the inner workings of your mortgage, teach you about interest rates, and empower you to attack your mortgage with vigor, bypassing decades of payments and thousands of dollars in interest!
Tax-Free Wealth by Tom Wheelwright – Since your intent is to build wealth, you have to anticipate that your tax situation will change. The days of using Turbo Tax to file your return are no more—it's time to educate yourself about the tax law, how it works, and connect with professionals who can help you strategize your taxes. Tom Wheelwright is the smartest tax accountant around. In his book, you'll learn the main goal of the US Tax code, how deductions work, how businesses are taxed, and how to effectively tax plan year-round.
Entrusted: Building a Legacy That Lasts by David York and Andrew Howell – David York and Andrew Howell are lawyers who specialize in estate planning. Entrusted offers an insightful look into what really goes into planning a trust, including planning custody arrangements for your children in the event of your death, considering who will manage your assets, and how those assets will be distributed. Most importantly, Entrusted encourages you to make these decisions from your core value system, which you will identify and write down while reading the book.
Bonus Resource: Freedom Cheat Sheet – While not a book, we hope our Freedom Cheat Sheet will help you build financial intelligence by setting a goal. The PDF will walk you through examining your family's finances, and determining how many performing assets you would need to reach financial freedom!
Ready To Build Passive Income Through Rental Real Estate?
Ready to talk about your goals? We're here to show you the tools and teach you the process to begin earning legacy wealth for you and your family.