In 2022, mortgage rates are up and will continue to climb. While that sounds like bad news for homebuyers and investors, if you look at the full picture, you'll see that rates aren't necessarily up, instead it's more like they're returning to a baseline.
That's our topic for today's show – we're going to dive into the history of mortgage rates, what interest rates look like in 2022, and what all of this means for your investment portfolio. Press play to learn more about the history of interest rates and how you can get the best rates possible right now.
More About This Show
Today's mortgage interest rates are well below the highest annual average rate recorded by Freddie Mac — 16.63% in 1981. Think about that, 16%!
In 2019, one year before the COVID-19 pandemic, the average interest rate for a 30-year fixed-rate mortgage was 3.94%. The average mortgage rate for 2021 was 2.96%, the lowest average in 30 years.
Take a look at some mortgage rate trends over the past few decades…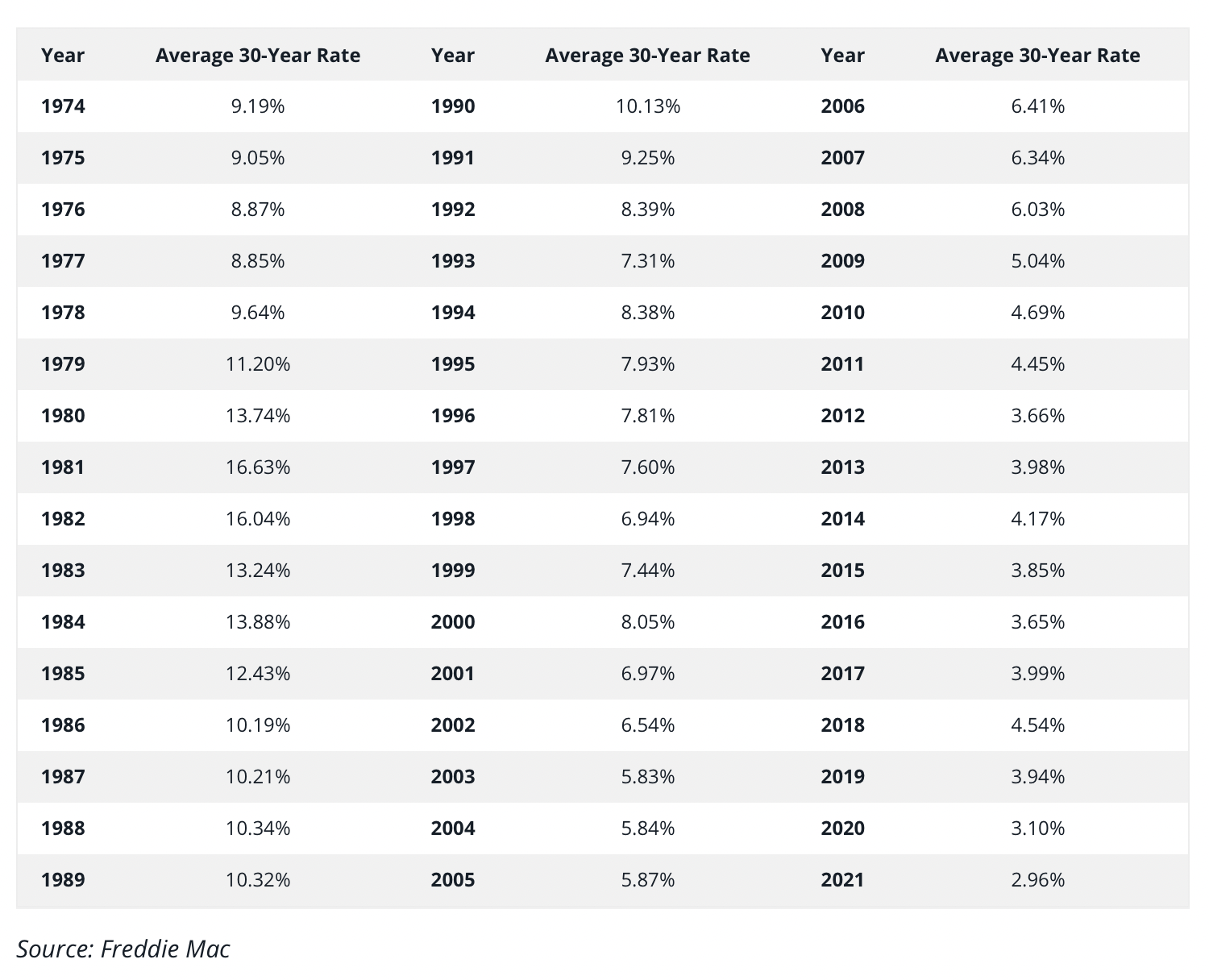 So while you might be thinking that rates are up, it's important to look at the full picture… Our tendency is to panic about these things, but it's really just the name of the game.
I know we've talked about this before, but it's worth reiterating:  the only way that you've missed an opportunity is if you didn't invest over the last two years. And even if that's the case, it's really not something to beat yourself up over.
Remember, interest rate isn't the only factor that should go into weighing an investment. Is your return higher than that interest rate? If so, it's very likely that you're making a smart investment.
The most important thing I want you to takeaway is that rates aren't necessarily up, but moreso returning to their average. Remember that we can't control interest rates. There are ebbs and flows in the market, and this is one of them. What you CAN control is how you choose to utilize your resources, build wealth with the banks' money, and make smart, sustainable investments.
I do understand that this is a major pain point right now, so let's talk about a few things you can do to make sure you're getting the lowest rate possible.
How to Get a Competitive Interest Rate in 2022
Shop around. Utilize services like LendingTree or Bankrate to find the best rates and narrow down your options.
Don't forget about local banks and credit unions. Small, local banks can be more competitive and often offer lower rates than the big banks.
Fine tune your credit score. Sometimes making small changes in your finances can boost your credit score, allowing you to qualify for a lower rate. Use an online credit score service or sit down with a banker to see if you have any inaccuracies, outstanding debts, or anything else that can be quickly remedied.
Utilize the benefits of a full-service team. If you're specifically interested in buying new construction rental properties, let our team do the heavy lifting of finding the best rate. Our financing team has relationships with over 100 lenders. Because of this, we can help you find competitive rates and terms on conventional financing. The added bonus is that our financing team holds your hand through the process, helping you have a seamless experience. To learn more, come on over to our website and book a free call at morrisinvest.com
Episode Resources
Book a Call with Our Team
Bambee.com/investing ← Get a free HR audit!
Scoremaster.com/invest
morrisinvest.com/bootcamp ← Download your FREE 90-Day Bootcamp!
Subscribe to Investing in Real Estate on iTunes
Find Your Financial Freedom Number
Subscribe to the Morris Invest YouTube channel
Like Morris Invest on Facebook
DISCLAIMER: I am not a financial adviser. I only express my opinion based on my experience. Your experience may be different. These videos are for educational and inspirational purposes only. Investing of any kind involves risk. While it is possible to minimize risk, your investments are solely your responsibility. It is imperative that you conduct your own research. There is no guarantee of gains or losses on investments.
AFFILIATE DISCLOSURE: Some of the links on this channel are affiliate links, meaning, at NO additional cost to you, I may earn a commission if you click through and make a purchase and/or subscribe. However, this does not impact my opinion. We recommend them because they are helpful and useful, not because of the small commissions we make if you decide to​ use their services. Please do not spend any money on these products unless you feel you need them or that they will help you achieve your goals.
Ready To Build Passive Income Through Rental Real Estate?
Ready to talk about your goals? We're here to show you the tools and teach you the process to begin earning legacy wealth for you and your family.