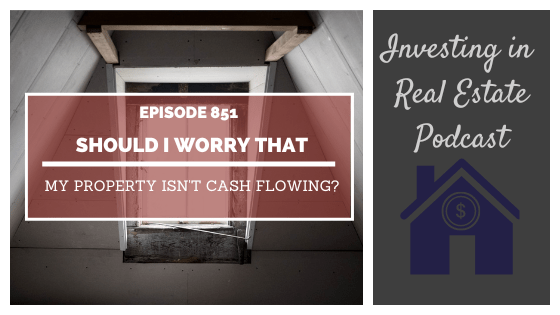 Should you worry if you're breaking even on a rental property? What can be done to turn things around if you're having a bad investing experience? That's the first question I'm answering on today's show.
On this episode, I'm taking three of your questions on handling an investment that's not cash flowing, using a HELOC as a down payment, and finding motivated sellers for real estate deals. Please join me for this Q&A episode of Investing in Real Estate!
On this episode you'll learn: 
What to do if your property isn't cash flowing.
How to use a HELOC as a down payment on a rental property.
How to find motivated sellers.
And more!
What to Do If Your Property Isn't Cash Flowing
The first thing to remember in this scenario is the model, The Three Stages of Real Estate Investing. This concept, as written by Gary Keller, describes the three stages of real estate investing as:
Buy
Own
Cash Flow
If you're a new investor, you should be in the first stage, where your efforts are put into buying. You shouldn't necessarily be concerned with making a lot of money. I know that sounds counterintuitive to your main goal, but this stage is all about purchasing properties in order to increase your net worth. Let your tenants improve your equity position and keep going.
However, if you're having a particularly difficult and stressful time, it sounds like you may want to reevaluate your property management team. Here are 5 questions to ask a property management company, and a video behind the scenes with our property management team.
How to Use a HELOC as a Down Payment on a Rental Property
I don't think your lender should care if you're using a HELOC as a down payment; this is a perfectly legitimate investing strategy. And, if for some reason they give you grief about it, I would encourage you to find a different lender. Also, make sure you're being open and transparent from the beginning. You do not want to give your lender any surprises when making a big purchase. Check out my friends at Churchill Mortgage & Flagstar Bank if you need a lender that works with investors.
How to Find Motivated Sellers
When I was involved in wholesaling, I was a big fan of direct mail. Use a sourcing site like Listsource.com to collect your data. I would look specifically for people who have owned the home for 10+ years, and avoid any LLCs or businesses. You can send letters directly to those addresses, and then set up a Google voice line to receive calls. You can also try driving for dollars—which is essentially driving around neighborhoods looking for properties that need attention. Motivated sellers are out there, as long as you are also motivated.
Episode Resources
Book a Call with Our Team
iTrustCapital.com ← Sign up today and receive a $100 funding bonus when you fund an account!
5 Questions to Ask a Property Manager
Behind the Scenes with Our Property Management Company
Dan Kraus at Churchill Mortgage
Flagstar Bank
Listsource.com
morrisinvest.com/Clayton
Download the FREE Financial Empowerment Bootcamp
Download the Freedom Cheat Sheet
Subscribe to Investing in Real Estate on iTunes
Find Your Financial Freedom Number
Subscribe to the Morris Invest YouTube channel
Like Morris Invest on Facebook
DISCLAIMER: I am not a financial adviser. I only express my opinion based on my experience. Your experience may be different. These videos are for educational and inspirational purposes only. Investing of any kind involves risk. While it is possible to minimize risk, your investments are solely your responsibility. It is imperative that you conduct your own research. There is no guarantee of gains or losses on investments.
AFFILIATE DISCLOSURE: Some of the links on this channel are affiliate links, meaning, at NO additional cost to you, I may earn a commission if you click through and make a purchase and/or subscribe. However, this does not impact my opinion. We recommend them because they are helpful and useful, not because of the small commissions we make if you decide to​ use their services. Please do not spend any money on these products unless you feel you need them or that they will help you achieve your goals.
Ready To Build Passive Income Through Rental Real Estate?
Ready to talk about your goals? We're here to show you the tools and teach you the process to begin earning legacy wealth for you and your family.