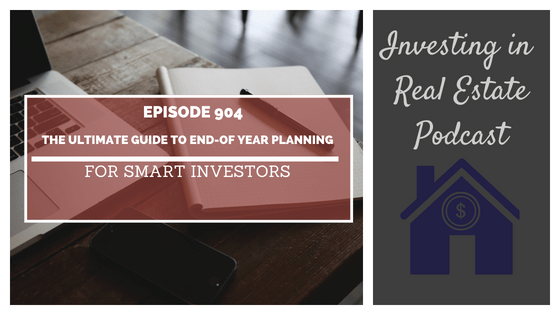 There are many roles and tasks you can outsource in your real estate business, but one thing that's your responsibility alone is nurturing your portfolio. And as the end of the year approaches, it's critical that you have a game plan for reaching your financial goals. On today's show, I'm going to talk about what that means, and some specific action steps you can take to make sure you're on track.
As we head into the end of the year, it's an extremely important time in terms of wrapping up things for the tax year. Right now is a great opportunity to get on track for 2023. Get ready to take some notes – because I'm sharing all my best tips for managing a real estate portfolio at the end of the year!
More About This Show
1) Revisit Your Freedom Number
I want you to examine if anything has changed for you since you last calculated your Freedom Number. If you need to adjust the number, that's perfectly normal – things happen! And with inflation, we could all use a little more wiggle room. I think taking a look at your Freedom Number is the perfect place to start because it can help renew your motivation and remind you of your long-term goals.
2) Update your Q4 balance sheet if you haven't already, and run the numbers on all of your properties.
This is really important because you want to keep track of your assets and liabilities, and see how everything is growing over time. Go through each asset on your balance sheet and make sure it's performing as expected. If so, great! If not, what can you change? Is it time to raise rents, make improvements, or possibly get rid of a dud in your portfolio? There's nothing wrong with making these changes. The worst thing you can do is be blind to what's happening and just do nothing. Remember, maintaining the health of your portfolio is your job, and your job alone.
3) Schedule check-ins with your team members.
Reach out to your property management company, your accountant, and your portfolio manager. Just get a date on the schedule to talk about how things are going. These types of meetings are so easy to put off but getting on the same page as your team can be really impactful. Ask your property manager how things are going at your rentals – are there any repair requests they need you to approve? Is there any potential to raise rents? Are there any upcoming vacancies, and if so, what's the game plan? Ask your tax team about any big purchases or decisions you need to make before the end of the year. Talk to your portfolio manager about adding another property to your portfolio, if that fits within your goals. There's still time to make a lot of these decisions, and it's best if you're strategic about it.
4) Secure your retirement accounts.
How's your retirement doing? If you've got a stock based account like a 401k or IRA, it's very likely that it's feeling the pinch of inflation. And if you're a proactive investor, there's no better time than now to take control over your retirement. A self-directed IRA is the absolute best vehicle you can use to get in the driver's seat of your retirement. Not to mention, a self-directed account offers protection against inflation. If you're even slightly curious about getting started with a self-directed IRA or have questions about whether or not it's right for you, my team would be happy to take a look at your financial snapshot and see if you have funds that could be converted into a self-directed retirement account.
5) Consider a cost segregation.
As a real estate investor, you already know the power of depreciation for reducing your tax bill. But if you need more help offsetting your tax burden before the end of the year, a cost segregation is one of the most powerful strategies to do so. Instead of depreciating everything at the standard rate of 27.5 years, a cost segregation study allows you to reclassify components into shorter time frames — 5, 7, or 15 years. This can potentially save you thousands of dollars on your tax bill, depending on your situation. And while a cost segregation study can take months to complete, we have properties ready to close with a cost segregation study built in… at no cost to you. This allows high income earners to keep more of their money in their pockets and pay little to no taxes – legally! Even though it's December, it's not too late to take advantage of a cost segregation…. but you need to act now.
6) Grow your portfolio quickly with a portfolio loan.
Whether it's to reach your goal or help with tax deductions, you may still need to pick up a few rental properties by the end of the year. The best way to quickly buy multiple rental properties is by utilizing a portfolio loan. At Morris Invest, we have a top notch Portfolio Program that includes income producing properties in the best growth markets in the US. And if you really need to mitigate your tax burden, this is a great way to go. Our portfolio program gets you the properties you need, and in certain situations, we can even provide FREE cost segregation studies to offset your taxes. If this is something you're interested in, I urge you to get on our schedule ASAP to see if it's a fit for you.
7) Exchange non-performing real estate for higher return rental properties.
A 1031 exchange is a powerful tool for improving your returns… but with the end of the year approaching, you'll have to act FAST. A 1031 exchange allows you to essentially trade in your assets without taking a hit on your taxes. Like any other tax savings strategy, there are a lot of rules and regulations involved.. so you'll need to work with a professional.
8) Consider ways to outsource.
Are there any responsibilities on your plate you can outsource to someone else? Maybe it's time to hire a bookkeeper or property manager. Or perhaps you need to hire someone part-time to help with simple admin tasks. I suggest writing down a list of everything you're doing in your business. Then assess which of those things you need to be doing. If they're A) impactful B) one of your strengths or C) something you enjoy doing, then keep it. Otherwise, consider paying someone else to help things run smoothly in your business.
9) Remember to keep up with your end-of-year tax strategy.
I touched on this a little bit before, but now is your last chance to influence your tax bill for the year. Be sure to touch base with your tax team – ask about making purchases, expanding your portfolio, or perhaps taking advantage of high-level investing strategies like cost segregation studies or 1031 exchanges.
10) Find support.
One of the most important things you can do to stay on track is to find people who understand your goals and want to cheer you on. Investing can feel isolating if you don't have anyone to bounce ideas off of. I want to encourage you to add one person into your circle before the end of the year. If you don't have any like-minded friends, find a meetup group near you. Another option is to utilize our services at Morris Invest, if you haven't already. Our portfolio managers love to learn about your goals and help you create a personalized investing strategy. The first call is 30-minutes, and you pick the day and time. It's totally free, and you can schedule your call at morrisinvest.com. Again, it doesn't matter how you go about it, but having support on your journey is invaluable.
11) Remember your long-term goals & the three stages of real estate investing.
Have you taken time to review your Individualized Action Plan with your portfolio manager? That is the perfect tool to help you and our team to stay focused on your 5 to 10 year plan.
Episode Resources
Book a Call with Our Team
JoinCrowdHealth.com ← Use promo code investing to get your first six months for $99/month!
morrisinvest.com/bootcamp ← Download your FREE 90-Day Bootcamp!
Subscribe to Investing in Real Estate on iTunes
Find Your Financial Freedom Number
Subscribe to the Morris Invest YouTube channel
Like Morris Invest on Facebook
DISCLAIMER: I am not a financial adviser. I only express my opinion based on my experience. Your experience may be different. These videos are for educational and inspirational purposes only. Investing of any kind involves risk. While it is possible to minimize risk, your investments are solely your responsibility. It is imperative that you conduct your own research. There is no guarantee of gains or losses on investments.
AFFILIATE DISCLOSURE: Some of the links on this channel are affiliate links, meaning, at NO additional cost to you, I may earn a commission if you click through and make a purchase and/or subscribe. However, this does not impact my opinion. We recommend them because they are helpful and useful, not because of the small commissions we make if you decide to​ use their services. Please do not spend any money on these products unless you feel you need them or that they will help you achieve your goals.
Ready To Build Passive Income Through Rental Real Estate?
Ready to talk about your goals? We're here to show you the tools and teach you the process to begin earning legacy wealth for you and your family.