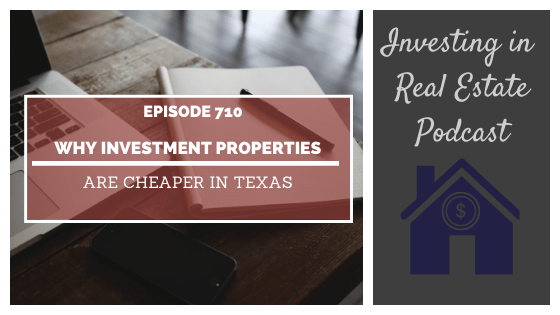 During my career in the real estate business, I've invested in many great rental properties within the Lone Star state. Because of this, I'm often asked, "Are investment properties in Texas cheaper?" They are, and today you're going to learn why!
On this episode of Investing in Real Estate, you're going to hear the two main reasons why investing in Texas is cheaper. You'll learn why I love Texas as a rental market, and why our tenants love it too!
On this episode you'll learn:
The two main reasons why rental properties are cheaper in Texas.
Why the amount of land in Texas makes properties cheaper.
What you need to know about the cost of living in Texas.
And much more!
The Two Main Reasons Why Rental Properties Are Cheaper in Texas
Rental real estate in Texas is less expensive for two reasons. First, it has a vast amount of available buildable land, so the non-competition drives the prices down. Second, Texas has a lower cost of living, which makes for low-priced labor and building materials, and this directly affects the cost of the property.
Why the Amount of Land in Texas Makes Properties Cheaper
Have you ever driven through the state of Texas? It's huge! Along with that comes lots of available land that can be used to build houses. When there is this much buildable land space, the competition for land to build on is low, and equates to low prices. In comparison, research land availability in California, along with its housing prices. You will find that there is not much prime land available, and property prices are typically sky-high. This is also one reason many people have left California to make Texas their new home.
What You Need to Know About the Cost of Living in Texas
This can directly affect property prices because building a house requires labor and materials. If these two elements are low-priced, then so is the property. Using CA as an example again, the minimum wage in this state is currently $13, and will be raised to $14 as of 2021. The minimum wage in Texas is currently $7.25. CA wages are almost double, and therefore, it will cost more to hire workers to build a property. Additionally, when you have a state where everything costs more, you can expect your building materials to cost more also. With that said, Texas having a low cost of living ensures that your building materials and labor are cost-effective. This inexpensive pricing gets passed over to the buyer in the form of a lower priced investment property.
Episode Resources
Book a Call with Our Team
Simplisafe.com/investing ← Get a FREE home security camera, when you purchase a system!
Are Investment Properties Cheaper in Texas?
The BRRRR Method for Real Estate Investing
New Construction Property Walkthrough
Join the Financial Freedom Academy
Subscribe to Investing in Real Estate on Apple Podcasts
Download the free Financial Empowerment Bootcamp
Find Your Financial Freedom Number
Subscribe to the Morris Invest YouTube channel
Like Morris Invest on Facebook
DISCLAIMER: I am not a financial adviser. I only express my opinion based on my experience. Your experience may be different. These videos are for educational and inspirational purposes only. Investing of any kind involves risk. While it is possible to minimize risk, your investments are solely your responsibility. It is imperative that you conduct your own research. There is no guarantee of gains or losses on investments.
AFFILIATE DISCLOSURE: Some of the links on this channel are affiliate links, meaning, at NO additional cost to you, I may earn a commission if you click through and make a purchase and/or subscribe. However, this does not impact my opinion. We recommend them because they are helpful and useful, not because of the small commissions we make if you decide to​ use their services. Please do not spend any money on these products unless you feel you need them or that they will help you achieve your goals.
Ready To Build Passive Income Through Rental Real Estate?
Ready to talk about your goals? We're here to show you the tools and teach you the process to begin earning legacy wealth for you and your family.