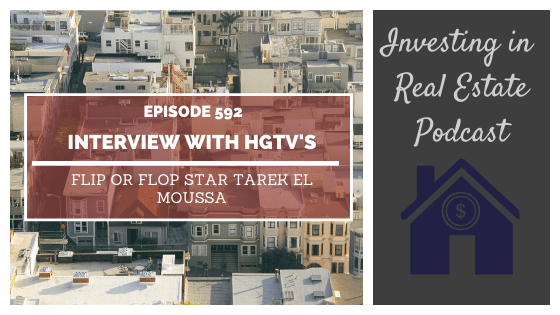 Book a call with our team: https://morrisinvest.com/book-a-call/
This episode of Investing in Real Estate is sponsored by Fund&Grow. Fund&Grow helps investors access business lines of credit with 0% interest. For $500 off your startup fee, visit morrisinvest.com/funding.
On today's show, I'm joined by HGTV star, Tarek El Moussa! Tarek is here to share his tips to finding success in the real estate industry. We'll talk about his journey to becoming a famous flipper, what it takes to be successful, and how to think about mistakes in real estate.
In this interview, you'll hear the inspiring details behind Tarek's story, including how he went from living in his mom's garage to making $120k in 90 days. He'll also discuss how he pitched his show, Flip or Flop! Additionally, you're going to learn how to find profitable deals, the power of coaching, and why the ability to execute creates success!
On this episode you'll learn:
How real estate coaching changed Tarek's life.
The truth about "the secret to success."
The mistakes Tarek made in Season 1 of Flip or Flop.
What to do with the incredible profits from flipping houses.
How Real Estate Coaching Changed Tarek's Life
Tarek has humble beginnings—before he stuck fame on HGTV, he was selling knives door-to-door, delivering pizzas, and living out of his mom's garage. At one point, he felt like he had hit rock bottom financially, and decided to take on a real estate coaching program. This is when everything changed. By following a proven system, and promising himself he would work hard, Tarek was able to find success in real estate. After 90 days committed to the program, he made $120k in commissions.
The Truth About "the Secret to Success"
Tarek says there is no secret to success. In fact, it's quite simple: find a plan and execute! If you have a proven system and the willingness to put in the hard work, success will follow. The key is to be persistent, and push yourself outside of your comfort zone.
The Mistakes Tarek Made in Season 1 of Flip or Flop
Like most successful real estate investors, Tarek made numerous mistakes on deal. He electrocuted himself, he painted the baseboards to the floor, and more. But on the other hand, he did one thing right—he turned a profit of $34k. Tarek explains that in real estate, you should expect to make mistakes; when you're starting out, it's part of the process. However, if you buy right, you will make money.
What to Do with the Incredible Profits from Flipping Homes
What you might not know about Tarek is that he's not just a house flipper. He is also a buy and hold investor! Because house flipping is so profitable, Tarek is able to use his earnings to purchase performing assets.
Episode Resources
Fund&Grow
Subscribe to Investing in Real Estate on Apple Podcasts
Find Your Financial Freedom Number
Subscribe to the Morris Invest YouTube channel
Like Morris Invest on Facebook
Connect with Tarek El Moussa
Homemade Investor Workshops
Instagram
TikTok
Ready To Build Passive Income Through Rental Real Estate?
Ready to talk about your goals? We're here to show you the tools and teach you the process to begin earning legacy wealth for you and your family.