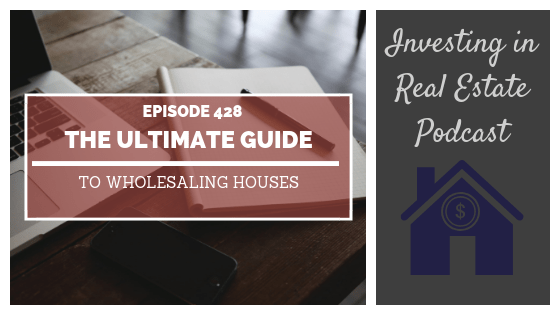 Book a call with our team: https://go.oncehub.com/morrisinvest/?utm_source=MIblog&utm_medium=MIBlog&utm_campaign=MIblog&Source=MIblog
Today's episode of Investing in Real Estate is sponsored by Robinhood! Robinhood is an investing app that lets you buy and sell stocks, ETF's, options, and cryptos- all commission-free.  Robinhood is giving our listeners a FREE stock like Apple, Ford, or Sprint to help build your portfolio! Sign up at http://investing.robinhood.com.
Wholesaling is a powerful way for real estate investors to get started, but it can be overwhelming if you don't know what you're doing. On today's episode of Investing in Real Estate, Tom Krol is back to share more details about finding success in the world of wholesaling.
This episode is full of gold—Tom is bringing tons of tips and strategies you can implement in order to identify properties, build trust with sellers, and turn a profit. If you've ever been interested in making money through wholesaling houses, you won't want to miss episode 428!
On this episode you'll learn:
The worst way to lose a motivated seller.

The importance of getting a property under contract ASAP.

How to get a property under contract.

The importance of identifying why the seller is selling.

How to identify an impending event.

And much more!
Episode Resources
Robinhood
Sign up with Tom's team at https://morrisinvest.com/wholesaling
The Ultimate Guide to Wholesaling Houses Part 1 – Episode 419
ListSource
MeetUp
Rhinoceros Success by Scott Alexander
The One Thing by Gary Keller
The Pumpkin Plan by Mike Michalowicz
Subscribe to Investing in Real Estate on Apple Podcasts
Find Your Financial Freedom Number
Subscribe to the Morris Invest YouTube channel
Like Morris Invest on Facebook
Contact Tom Krol
Website
Facebook
Twitter
LinkedIn
If you're ready to begin building a passive income through rental real estate, book a FREE call with our team today. We're ready to talk about your goals and want to help you learn more about earning legacy wealth for you and your family.
Ready To Build Passive Income Through Rental Real Estate?
Ready to talk about your goals? We're here to show you the tools and teach you the process to begin earning legacy wealth for you and your family.