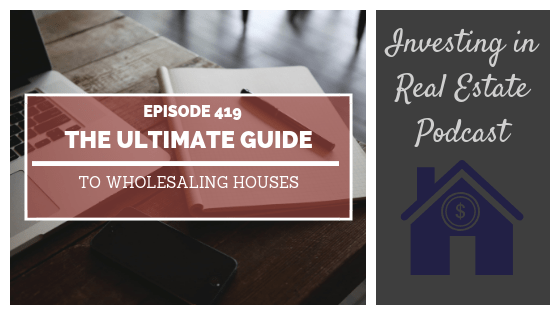 Book a call with our team: https://go.oncehub.com/morrisinvest/?utm_source=MIblog&utm_medium=MIBlog&utm_campaign=MIblog&Source=MIblog
Today's episode of Investing in Real Estate is sponsored by SimpliSafe! SimpliSafe believes nothing should ever come between you and protecting your home. Get a jump on protecting your home today at http://simplisafe.com/investing.
Wholesaling houses is the foundation of all real estate investing. If you're interested in turning a quick profit in order to build wealth or expand your portfolio, wholesaling might be the right strategy for you. On today's show, we're going back to basics to discuss the fundamentals of wholesaling.
Tom Krol, the best wholesaling coach in the country, joins us to teach us the step-by-step strategies for wholesaling real estate. This is a detailed episode full of tons of knowledge. Be sure to bring your pencil and paper and get ready to take notes on this episode of Investing in Real Estate!
On this episode you'll learn:
What kinds of homes to look for when wholesaling.

How to build a network.

The details of finding a cash buyer.

The website you should use to find homes.

The exact criteria to use when searching.

Why "act as if" is the worst advice when it comes to investing.

And much more!
Episode Resources
SimpliSafe
Sign up with Tom's team at https://morrisinvest.com/wholesaling
ListSource
MeetUp
Rhinoceros Success by Scott Alexander
The One Thing by Gary Keller
The Pumpkin Plan by Mike Michalowicz
Subscribe to Investing in Real Estate on Apple Podcasts
Find Your Financial Freedom Number
Subscribe to the Morris Invest YouTube channel
Like Morris Invest on Facebook
Contact Tom Krol
Website
Facebook
Twitter
LinkedIn
If you're ready to begin building a passive income through rental real estate, book a FREE call with our team today. We're ready to talk about your goals and want to help you learn more about earning legacy wealth for you and your family.
Ready To Build Passive Income Through Rental Real Estate?
Ready to talk about your goals? We're here to show you the tools and teach you the process to begin earning legacy wealth for you and your family.