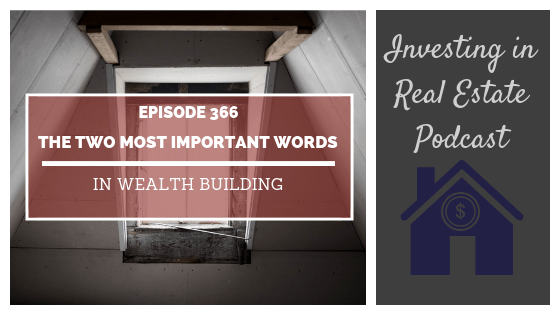 EP366: The Two Most Important Words in Wealth Building
Book a call with our team: https://morrisinvest.com/book-a-call/
This episode of Investing in Real Estate is sponsored by Vistaprint. With Vistaprint, you can create a truly professional, unique business card in minutes. Vistaprint is offering you  500 high-quality, custom business cards starting at $9.99. Visit Vistaprint.com and use code INVESTING.
If you're ready to take action and begin building wealth, there are two crucial words you need to keep at front of mind: cash flow. Wealthy people understand that building true, lasting wealth ultimately comes down to cash flow.
On today's show, I'm sharing the details behind the two most important words in wealth building. We'll talk about financial statements, poor vs. rich people, and the importance of cash-flowing assets. Don't miss episode 366 of Investing in Real Estate!
On this episode you'll learn:
The big mistake that low and middle class make with their income.

Why cash flow is king.

How wealthy people use their income.

The importance of performing assets.

And much more!
Episode Resources
Vistaprint
WealthAbility
Subscribe to Investing in Real Estate on Apple Podcasts
Find Your Financial Freedom Number
Subscribe to the Morris Invest YouTube channel
Like Morris Invest on Facebook
If you're ready to begin building a passive income through rental real estate, book a FREE call with our team today. We're ready to talk about your goals and want to help you learn more about earning legacy wealth for you and your family.
Ready To Build Passive Income Through Rental Real Estate?
Ready to talk about your goals? We're here to show you the tools and teach you the process to begin earning legacy wealth for you and your family.