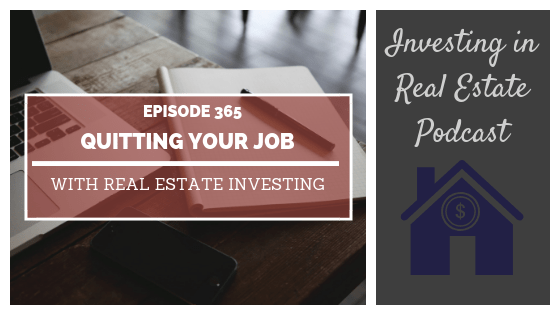 EP365: Quitting Your Job with Real Estate Investing – Interview with Michael Blank
Book a call with our team: https://go.oncehub.com/morrisinvest
This episode of Investing in Real Estate is sponsored by Right Networks. Right Networks can help you cloud-enable your desktop financial and real estate applications so you have more time to focus on your business. To learn more, give Right Networks a call at 888-210-0237 for a special 10% off discount. Be sure to mention CLAYTON MORRIS.
Today's episode of Investing in Real Estate is sponsored by Purple. Purple is a leading comfort tech company that uses cutting-edge science to create the world's most comfortable sleep and sit products. Right now, our listeners will get a FREE sheet set and mattress cover with any mattress purchase. Get yours at Purple.com/INVESTING. 
What would your life be like if you had enough income from rental properties to quit your job? Today's guest, Michael Blank, has put together a proven system to help investors reach financial freedom with real estate apartment buildings.
On today's show, Michael is sharing his secrets to success, and details from his new book! We'll talk about finding deals, obtaining funding, and so much more. Michael has so much insight to share; you won't want to miss this episode of Investing in Real Estate!
On this episode you'll learn:
How long it usually takes to replace your income with real estate.

Why Michael prefers multi-family investing.

The drawbacks of flipping houses.

The meaning of "the Law of the First Deal."

Michael's four secrets to real estate success.

How to raise money for real estate investing.

The importance of identifying "the one thing."

And much more!
Episode Resources
Right Networks
Purple
Financial Freedom with Real Estate Investing by Michael Blank
Subscribe to Investing in Real Estate on Apple Podcasts
Find Your Financial Freedom Number
Subscribe to the Morris Invest YouTube channel
Like Morris Invest on Facebook
 Contact Michael Blank
Website
Facebook
Twitter
If you're ready to begin building a passive income through rental real estate, book a FREE call with our team today. We're ready to talk about your goals and want to help you learn more about earning legacy wealth for you and your family.
Ready To Build Passive Income Through Rental Real Estate?
Ready to talk about your goals? We're here to show you the tools and teach you the process to begin earning legacy wealth for you and your family.