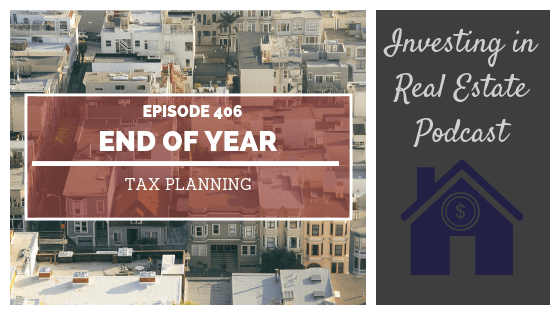 Book a call with our team: https://go.oncehub.com/morrisinvest
Today's episode of Investing in Real Estate is sponsored by SimpliSafe! SimpliSafe believes nothing should ever come between you and protecting your home. Get a jump on protecting your home today at http://simplisafe.com/investing.
Today's episode is also sponsored by Abby Connect. A full-time assistant costs a lot of money, but Abby Connect provides you with a world-class, professional and courteous team of receptionists specifically trained on your business. Abby Connect is offering Investing in Real Estate listeners a no-obligation FREE trial. And after your trial is over, our listeners will also receive $95 off their first bill–but only when you sign up at our special link: abbyconnect.com/investing.
As we approach the new year, it's important to be looking ahead to tax season. You probably already know that there are enormous tax benefits in owning residential real estate. But smart investors know that in order to maximize your tax benefits, you need to be strategic year-round, and not just at tax time.
On this episode of Investing in Real Estate, Natali and I are sharing three strategies you can implement NOW in order to save on taxes. You'll learn about depreciation, cost segregation, estimating your income, and much more!
On this episode you'll learn:
Why real estate is a tax-friendly investment.

How cost segregation works.

The importance of estimating your rental income.

Why tax planning should be a constant pursuit.

The types of purchases you should consider before the end of the year.

And much more!
Episode Resources
SimpliSafe
Abby Connect
What You Need to Know About the New Tax Law with Tom Wheelwright – Episode 302
Understanding Cost Segregation with David Brizel – Episode 341
WealthAbility
Subscribe to Investing in Real Estate on Apple Podcasts
Find Your Financial Freedom Number
Subscribe to the Morris Invest YouTube channel
Like Morris Invest on Facebook
If you're ready to begin building a passive income through rental real estate, book a FREE call with our team today. We're ready to talk about your goals and want to help you learn more about earning legacy wealth for you and your family.
Ready To Build Passive Income Through Rental Real Estate?
Ready to talk about your goals? We're here to show you the tools and teach you the process to begin earning legacy wealth for you and your family.