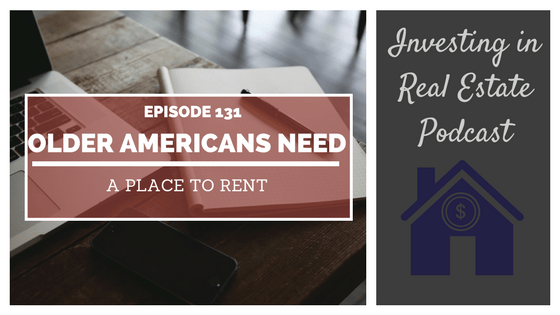 EP131: Older Americans Need a Place to Rent – Interview with Richard Eisenberg
Book a call with our team: https://go.oncehub.com/morrisinvest

This episode of Investing in Real Estate is brought to you by Blue Apron. Blue Apron's mission is to make incredible home cooking accessible to everyone. Check out this week's menu and get your first three meals free and free shipping at blueapron.com/investing.
The population of Americans over the age of 65 is expected to grow exponentially over the next 20 years. A recent Harvard study reported that many Americans in that age group struggle to find housing that meets both their needs and finances.
On today's show, I'm joined by Richard Eisenberg, the Managing Editor of PBS' Next Avenue. He's here to share the projected future of the housing market for older Americans. We'll discuss what older Americans will need in a home, as well as the opportunity for investors to help. Please join us on episode 131 of Investing in Real Estate!
More About This Show
The current trend shows that many Baby Boomers are selling their homes in order to downsize in retirement. But when they look for smaller homes, there aren't many affordable options available. Most people 65 and up are looking for a home they can live in for the rest of their lives.
Because of this, they require certain features. For example, entrances without steps, single floor living, and wide halls and doorways. These features ensure that when they are older with decreased mobility, their home will still be functional. But these homes are increasingly hard to find.
This is disheartening due to the statistic that the population of 65+ is projected to rise from 48 million to 79 million in the next couple decades. Richard explains that over 6.4 million low-income renters are paying more than 30% of their income for housing.
Richard clarifies, some will purchase homes with cash they've gained from selling their properties, but many are renting. Many Americans have not sufficiently saved for retirement, and do not have the funds to purchase a new home. Not to mention, financial advisors typically discourage accruing debt in retirement.
On this episode of Investing in Real Estate, Richard is sharing more about the housing market for older Americans. We'll talk about why construction trends aren't supporting older Americans' needs, the prospects for 2017, and much more. Richard is thoroughly researched on this topic, you won't want to miss this episode!
If you're ready to begin building a passive income through rental real estate, book a FREE call with our team today. We're ready to talk about your goals and want to help you learn more about earning legacy wealth for you and your family.
On this episode you'll learn: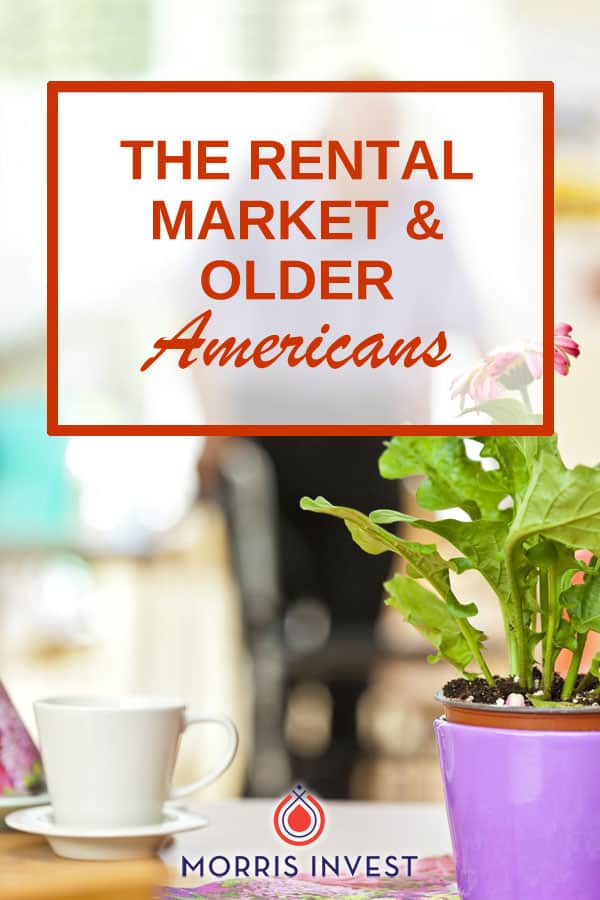 What is universal design?
What is the projected future for rental rates?
In what markets should investors provide housing for the elderly?
How will mortgage rates affect rental rates?
How will cohabitation come into play for older Americans?
And much more!
Episode Resources
Blue Apron
Creating Housing That Older Americans Will Need by Richard Eisenberg
Next Avenue
Next Avenue on Forbes
Projections and Implications for Housing a Growing Population by Harvard University
John Hopkins Capable
Subscribe to Investing in Real Estate on iTunes
Find Your Financial Freedom Number
Subscribe to the Morris Invest YouTube channel
Like Morris Invest on Facebook
Contact Richard Eisenberg
Website
Facebook
Twitter
LinkedIn
Ready To Build Passive Income Through Rental Real Estate?
Ready to talk about your goals? We're here to show you the tools and teach you the process to begin earning legacy wealth for you and your family.