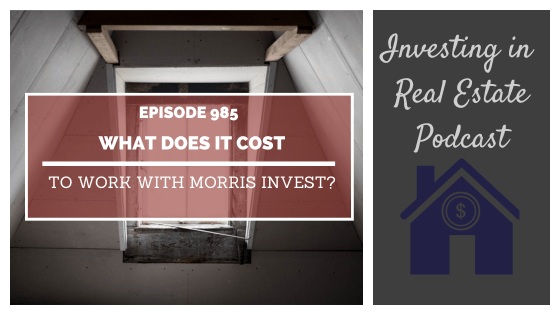 What does it cost to work with Morris Invest? Are there fees or subscriptions associated with using our service? On today's show, I'm answering this question—and more!
This Q&A episode of Investing in Real Estate features three great listener questions on getting started in real estate, finding a law firm to set up LLCs, and how our process works at Morris Invest. Click play to hear my answers to your investing questions!
On this episode you'll learn:
How to invest with a small nest egg & a low credit score.
The best law firms for real estate investors.
What it costs to work with Morris Invest.
And more!
How to Invest with a Small Nest Egg & a Low Credit Score
I believe that a credit score can be a limiting belief. You can achieve any financial goal you want, regardless of your credit score. Don't let an arbitrary, made-up number stop you from building wealth.
If you have a small nest egg of $5-10k, there are a few options you can consider. First, you could invest in real estate notes using a service like Connect Invest. With Connect Invest, you can put as little as $500 into real estate short notes that deliver a 7.5-9% return on investment. Note lengths vary from 6-24 months. Their rates are more than double average CD rates, and exponentially higher than a traditional savings account. Another option to consider is investing in gold and silver.
And if you're up for the challenge, you could get into wholesaling, It can be very profitable to scope out deals and collect a finder's fee. This will allow you to quickly save up the funds for a down payment on a buy and hold real estate investment.
I want you to remember that most successful real estate investors that I know started with little to no money. Money is a factor, but it's not the most important thing you need to get started. If you're determined, you'll be able to reach your goals.
The Best Law Firms for Real Estate Investors
Personally, there are two law firms that I use for my real estate business. York Howell is a company that can assist with estate planning.
For most investors though, you'll want to use Garrett Sutton's firm, Corporate Direct. Corporate Direct can help you set up an LLC or other business entity. They can help you select and form an entity from start to finish, and can advise you on state laws, asset protection, and much more.
What It Costs to Work with Morris Invest
At Morris Invest and SDIRA Wealth, we're proud to offer our services for free. When you buy a rental property with us, you'll receive our constant support and guidance for the life of your investment. There are no subscriptions, and no yearly fees.
Because we build new construction rental properties in bulk, we're able to pass down some of the savings to our investors. Additionally, we care about building relationships and helping our clients reach their unique financial freedom goals. We don't want to nickel and dime you; we want to build a relationship that allows us to work together for years to come.
Episode Resources
Book a Call with Our Team
morrisinvest.com/connect
York Howell
Corporate Direct
Never Buy a Rental Property Above Appraised Value 
morrisinvest.com/Clayton
Download the Freedom Cheat Sheet
morrisinvest.com/connect 
Download the free Financial Empowerment Bootcamp
Subscribe to Investing in Real Estate on iTunes
Find Your Financial Freedom Number
Subscribe to the Morris Invest YouTube channel
Like Morris Invest on Facebook
DISCLAIMER: I am not a financial adviser. I only express my opinion based on my experience. Your experience may be different. These videos are for educational and inspirational purposes only. Investing of any kind involves risk. While it is possible to minimize risk, your investments are solely your responsibility. It is imperative that you conduct your own research. There is no guarantee of gains or losses on investments.
AFFILIATE DISCLOSURE: Some of the links on this channel are affiliate links, meaning, at NO additional cost to you, I may earn a commission if you click through and make a purchase and/or subscribe. However, this does not impact my opinion. We recommend them because they are helpful and useful, not because of the small commissions we make if you decide to​ use their services. Please do not spend any money on these products unless you feel you need them or that they will help you achieve your goals.
Ready To Build Passive Income Through Rental Real Estate?
Ready to talk about your goals? We're here to show you the tools and teach you the process to begin earning legacy wealth for you and your family.