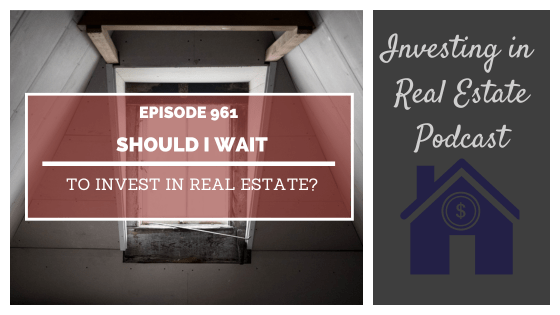 As we reach the halfway point of the year, we're facing high inflation and an unstable economy. Would it be a good idea to wait to invest? That's the first question I'm answering on today's show!
This Q&A edition of Investing in Real Estate features three of your excellent questions. We're covering topics like timing the market, investing in real estate notes, and how to get started as a beginner. Click play to hear my answers to your best investing questions!
On this episode you'll learn:
What you should consider about timing the market.
My thoughts on investing in real estate notes.
How to learn more about investing as a beginner.
And more!
What You Should Consider About Timing the Market
I don't believe in trying to time the market; it's a losing game. We like to tell our clients to consider time in the market instead. And personally, I buy real estate regardless of what's happening in the economy. There are never perfect conditions, and if you're looking for reasons to hesitate, you will find them. What I would focus on instead is investing in recession resistant markets that are insulated from huge price swings. Eventually, the market will change! It always does. Hopefully we will see interest rates go back down eventually, in which case you can refinance your investments. It would serve you best to invest when you can, so you have that time in the market to build equity and collect cash flow.
My Thoughts on Investing In Real Estate Notes
Investing in real estate notes through a company like Connect Invest can be a great strategy. I'm not a financial advisor, but personally I'd go this route instead of investing in stocks or crypto. If you're investing in notes, you can receive high returns. I think it's a great way to save up for a down payment, if it's what you choose to do.
How to Learn More About Investing as a Beginner
I loved this question about starting with zero knowledge. Here's why: it takes a great deal of humility to admit you don't know something… and that's also the best way to learn. Here are a few of my favorite resources I can recommend to a brand-new investor for building their financial intelligence:
Episode Resources
Book a Call with Our Team
morrisinvest.com/connect
Wealth Building Masterclass Playlist 
Financial Freedom Academy 
Rich Dad Poor Dad by Robert Kiyosaki 
Tax-Free Wealth by Tom Wheelwright
The Millionaire Real Estate Investor by Gary Keller
morrisinvest.com/Clayton
Download the Freedom Cheat Sheet
Download the free Financial Empowerment Bootcamp
Subscribe to Investing in Real Estate on iTunes
Find Your Financial Freedom Number
Subscribe to the Morris Invest YouTube channel
Like Morris Invest on Facebook
DISCLAIMER: I am not a financial adviser. I only express my opinion based on my experience. Your experience may be different. These videos are for educational and inspirational purposes only. Investing of any kind involves risk. While it is possible to minimize risk, your investments are solely your responsibility. It is imperative that you conduct your own research. There is no guarantee of gains or losses on investments.
AFFILIATE DISCLOSURE: Some of the links on this channel are affiliate links, meaning, at NO additional cost to you, I may earn a commission if you click through and make a purchase and/or subscribe. However, this does not impact my opinion. We recommend them because they are helpful and useful, not because of the small commissions we make if you decide to​ use their services. Please do not spend any money on these products unless you feel you need them or that they will help you achieve your goals.
Ready To Build Passive Income Through Rental Real Estate?
Ready to talk about your goals? We're here to show you the tools and teach you the process to begin earning legacy wealth for you and your family.