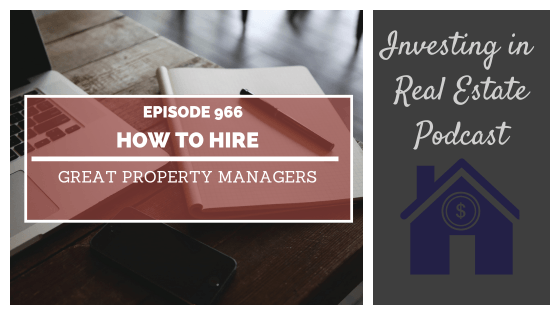 In my real estate investing career, I've learned that one of the biggest tools you can use to leverage your time and energy is a great property management team.But I also know that finding a company that is a good fit is easier said than done.
On today's show, I'm going to share all of my best secrets on property management. We're going to talk about hiring the right company, what your role is when you're overseeing a company, questions to ask, red flags, how to build a strong relationship, and so much more!
More About This Show
Let's start with hiring. At Morris Invest, we've already vetted property management teams for our clients. But if you're starting from scratch, you're going to have to do a little legwork. Make some calls and find 3-5 companies you'd like to interview.
Here are a few questions to ask:
How do you screen your tenants?
What percentage of rent can I expect to pay you monthly?
What other types of fees might I expect?
What's your preferred communication method, and how quickly will you return my calls or messages? And how quickly will you respond to my tenant's requests?
How do you handle a tenant turnover?
What is your role during an eviction?
How do your vacancy rates compare to the market's overall rates?
Here is what I'd consider green flags to look for when you're interviewing:
Strong communication. When it comes to property management, communication is key! You want to work with a team that will not only respond to your requests in a timely matter, but you also want to ensure they are available to your tenant because they are essentially your customer service team!
Thorough background check process. Typically you'll want them to conduct a criminal background check, a credit check, and take a look into their employment history. It's up to you what types of tenants you'd like to accept, but nonetheless it's important that your property manager at least looks into these different screening processes.
Digital portal. You should be able to login to some kind of software in order to see banking info, leases, maintenance, and more. This is how you'll keep your finger on the pulse of what's happening at your property.
Property management red flags:
Long vacancies. I know you've done your market research, so you shouldn't have long vacancies in a proven market. A strong property management team should be able to fill vacancies within a few months, so ask about their track record!
Seemingly unavailable or too busy.
Pricing inconsistent with market rates.
No policies or plans to deal with vacancies, evictions, etc.
Not enough experience or knowledge in the market.
Excessive fee schedule.
How to manage your property management team:
Check in regularly, but allow them to do their job – no micromanaging!
Don't accept poor behavior/performance/excuses.
Approve requests when asked. My personal philosophy entails giving them the green light to fix things under a certain dollar amount.
Don't try to adjust pricing on your own. Your PM should have a strong understanding of the going rental rate, and what's appropriate.
Take care of paperwork in a timely manner.
Remember how important they are to your success, treat them with respect!
Episode Resources
Book a Call with Our Team
Property Management Video 
morrisinvest.com/bootcamp ← Download your FREE 90-Day Bootcamp!
Subscribe to Investing in Real Estate on iTunes
Find Your Financial Freedom Number
Subscribe to the Morris Invest YouTube channel
Like Morris Invest on Facebook
DISCLAIMER: I am not a financial adviser. I only express my opinion based on my experience. Your experience may be different. These videos are for educational and inspirational purposes only. Investing of any kind involves risk. While it is possible to minimize risk, your investments are solely your responsibility. It is imperative that you conduct your own research. There is no guarantee of gains or losses on investments.
AFFILIATE DISCLOSURE: Some of the links on this channel are affiliate links, meaning, at NO additional cost to you, I may earn a commission if you click through and make a purchase and/or subscribe. However, this does not impact my opinion. We recommend them because they are helpful and useful, not because of the small commissions we make if you decide to​ use their services. Please do not spend any money on these products unless you feel you need them or that they will help you achieve your goals.
Ready To Build Passive Income Through Rental Real Estate?
Ready to talk about your goals? We're here to show you the tools and teach you the process to begin earning legacy wealth for you and your family.