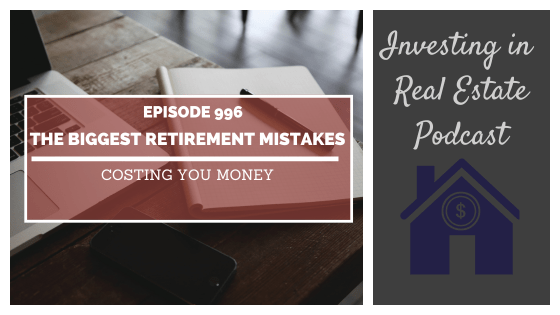 Data shows that nearly half of workers over the age of 50 are afraid of outliving their savings accounts at retirement. Fear around retirement is common, but it's not something you have to live with if you plan accordingly.
On today's show, we're going to dive into the biggest retirement mistakes that are costing you money and contributing to fear and stress around retirement. You're going to learn about the overall state of retirement savings in the US, some of the key retirement mistakes you can avoid as an investor, and what to do instead.
More About This Show
The number one retirement mistake that's costing you is heavily relying on the 401k. The 401k plan was created as a compliment to pension plans. But for the most part, traditional pension plans don't really exist anymore. Gone are the days of setting up a 401k & pension plan and ending up with a comfortable retirement. Times have changed, yet employers and financial advisors still sell the promise of the 401k. 401ks are expensive due to high fees and they offer little to no flexibility. If you have a great company match, a 401k can be a solid part of your strategy, but if you're relying on the 401k alone to help you live out your retirement goals, you're going to be sorely disappointed.
I've been talking about the downfalls of the 401k for years now… and when I look at the data, year after year, the 401k continues to be a massive failure as a primary source of security in retirement. In a report from Vanguard, the average 401k balance was just over $112,000.  That number has not risen much in the past decade. But think about how much the cost of living has gone up! The 401k just can't keep up, year after year. Lower your confidence in the 401k and find other ways to plan for retirement.
Here's another outdated retirement practice that is hurting your retirement outcomes: banking on Social Security. Although Social Security was never intended to entirely fund your retirement, at one point it could certainly act as a nice pad to other sources of retirement savings. However, the average monthly Social Security check was $1700 in 2023, and that number is only expected to plummet as time goes on. In fact, the Chief Actuary of the Social Security Administration says that after the year 2035, benefits are expected to decrease. If you're assuming outdated programs like the SSA will contribute to your financial security in retirement, the outlook is not good. The bottom line is, don't rely on government programs like Social Security to fund your retirement.
The next mistake that is costing you is underestimating your expenses in retirement.
Although we can never predict how long we'll live, far too many people underestimate their expenses in retirement, as well as the length of retirement. It's very likely that an average sized nest egg will be insufficient for the multiple decades that retirement could span. It's better to overprepare than underprepare, so be sure to overestimate your expenses, as well as the number of years you might spend in retirement.
Another mistake that is all too common is choosing to defer taxes until retirement. Choosing this route can set you up for a huge tax bill when you decide to retire. If you're on track to build wealth, you're likely going to be retiring in a higher tax bracket.
Consider choosing retirement accounts that allow you to pay taxes on the front end, such as Roth IRAs. This way, when you retire you won't have to pay taxes on the money your investments have accrued. I highly suggest working with smart CPA who can help you make these decisions and will factor in your personal financial situation.
The next retirement planning mistake you might be making is forgetting about old accounts. Our partners at SDIRA Wealth are experts in helping investors dig up funding options. And one thing we see happen often is that investors have left behind old 401ks and other retirement plans from their previous employers.
While these accounts are not necessarily hurting you, it's very likely that they're not reaching their potential. Old 401ks can be rolled over into self-directed IRAs which have much more purchasing power and potential to earn. If you've switched employers frequently, I highly recommend checking to see if you have any retirement savings left behind. You can do this by contacting your old employer.
Perhaps the biggest retirement mistake of all is giving away your agency. No one cares more about your financial freedom and your retirement than you do. If you're working with a financial advisor, ensure that their advice is helping you reach your goals, and not just lining their own pockets.
This is why I love the self-directed IRA. It puts the power back in your hands and allows you to choose investments that you believe will perform for you. With a self-directed IRA, you can choose from a wider array of asset types such as rental properties, promissory notes, businesses, and other performing assets.
At Morris Invest, we have a team of pros who are proficient in pairing a self-directed IRA with rental real estate to help you reach your retirement goals. And as I mentioned before, we can even help you uncover hidden funds you may have forgotten about. If you're interested in learning more, you can schedule a free 30-minute call at morrisinvest.com
A self-directed IRA is a powerful tool, but it's not for everyone. I'm not going to dive into the nuances in this video – but I highly recommend checking out this video called The Pros and Cons of Using a Self-Directed IRA to Buy Real Estate. No matter what investment type you choose, make sure that you have control, understanding, and feel comfortable with what's happening in your accounts. Because even if a self-directed IRA isn't the right fit for you, you can still build wealth and plan for retirement by purchasing performing assets.
When it comes to retirement, let's not pretend that the cards are in our favor. Between stock market crashes, rising cost of living, and sky-high inflation, Americans are far behind in terms of saving for retirement. If you want to get ahead, you have to put a solid plan in place.
The bottom line is, it takes a lot of strategizing to build out a retirement plan that can sustain your lifestyle. If you're making any of these key mistakes, I hope this information helped steer you in the right direction.
Episode Resources
Book a Call with Our Team
Life in Retirement Report by TransAmerica Institute 
How America Saves by Vanguard 
SSA Snapshot
The Future of SSA
The Pros and Cons of a Self-Directed IRA
morrisinvest.com/bootcamp ← Download your FREE 90-Day Bootcamp!
Subscribe to Investing in Real Estate on Apple Podcasts
Find Your Financial Freedom Number
Subscribe to the Morris Invest YouTube channel
Like Morris Invest on Facebook
DISCLAIMER: I am not a financial adviser. I only express my opinion based on my experience. Your experience may be different. These videos are for educational and inspirational purposes only. Investing of any kind involves risk. While it is possible to minimize risk, your investments are solely your responsibility. It is imperative that you conduct your own research. There is no guarantee of gains or losses on investments.
AFFILIATE DISCLOSURE: Some of the links on this channel are affiliate links, meaning, at NO additional cost to you, I may earn a commission if you click through and make a purchase and/or subscribe. However, this does not impact my opinion. We recommend them because they are helpful and useful, not because of the small commissions we make if you decide to​ use their services. Please do not spend any money on these products unless you feel you need them or that they will help you achieve your goals.
Ready To Build Passive Income Through Rental Real Estate?
Ready to talk about your goals? We're here to show you the tools and teach you the process to begin earning legacy wealth for you and your family.