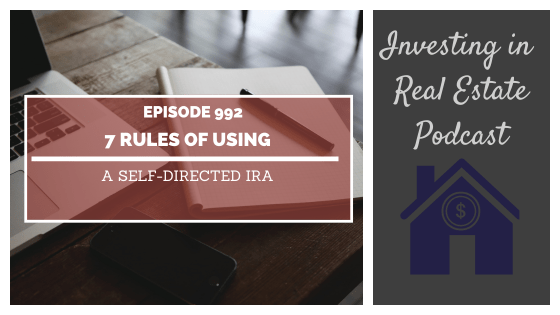 When I first heard about investing with a self-directed IRA, I had a lot of questions. The self-directed IRA is rarely talked about and has a lot of rules. This can be intimidating for new investors, but if you're the kind of person who takes initiative and wants to be empowered in your wealth building, this investing vehicle is a powerful way to build wealth.
On this episode of Investing in Real Estate, we're going to cover some of the main rules of using a self-directed account. Because a self-directed IRA is retirement account, the IRS has some strict rules you have to follow to maintain the tax-free status of the account. Press play to hear seven rules of using a self-directed IRA!
More About This Show
You cannot purchase an investment from yourself or disqualified persons.
Here's a chart of who would be classified as a disqualified person. Don't try to deal with disqualified persons or try to find loopholes to the rules. The IRS has very strict regulations, as well as severe penalties. It's not worth it to try to break the rules. If you have a deal in mind and want to buy real estate from a disqualified person, just use a different financing method.
The self-directed IRA must hold the title on the property.
This means you can't have the property under your name, your LLC, your trust, or anything else. It must be owned by the IRA. There is a structure that exists as a self-directed IRA/LLC combo – but even in that scenario, the IRA must be on the title.
All expenses must be paid by the self-directed account.
Need a repair on your property? Have a tax bill from the city? HOA fees? Every single expense related to the investment must be paid through the self-directed IRA, no matter how big or small. You'll need to send your requests over to your custodian, and they can help process the transaction.
There can be no indirect benefits.
What does this mean? All transactions should only benefit the self-directed IRA retirement account, not you. No using the property as a vacation home or storing things in the garage.
All money made from the investment should be placed into the IRA.
Don't think about investing with an IRA as a means to increase personal cash flow. All profit from the investment must be deposited directly into the IRA. If you're looking for cash flow, this is not the strategy for you! An IRA investment is for retirement purposes.
You must invest in certain assets.
Here's another chart that shows what types of investments are allowed, and which are not. Real estate is on the table, but things like antiques and comic books are not. If you have questions about this, reach out to your custodian and they can give you a clear answer.
Early distributions are not allowed.
The system is set up to discourage account holders from using their retirement funds before reaching the designated age of 59 1/2. In normal circumstances, if an investor withdraws funds from their account before this time, they will be subjected to penalties.
Episode Resources
Book a Call with Our Team
morrisinvest.com/bootcamp ← Download your FREE 90-Day Bootcamp!
Self-Directed IRA Video
Self-Directed IRA Blog Post 
Subscribe to Investing in Real Estate on iTunes
Find Your Financial Freedom Number
Subscribe to the Morris Invest YouTube channel
Like Morris Invest on Facebook
DISCLAIMER: I am not a financial adviser. I only express my opinion based on my experience. Your experience may be different. These videos are for educational and inspirational purposes only. Investing of any kind involves risk. While it is possible to minimize risk, your investments are solely your responsibility. It is imperative that you conduct your own research. There is no guarantee of gains or losses on investments.
AFFILIATE DISCLOSURE: Some of the links on this channel are affiliate links, meaning, at NO additional cost to you, I may earn a commission if you click through and make a purchase and/or subscribe. However, this does not impact my opinion. We recommend them because they are helpful and useful, not because of the small commissions we make if you decide to​ use their services. Please do not spend any money on these products unless you feel you need them or that they will help you achieve your goals.
Ready To Build Passive Income Through Rental Real Estate?
Ready to talk about your goals? We're here to show you the tools and teach you the process to begin earning legacy wealth for you and your family.