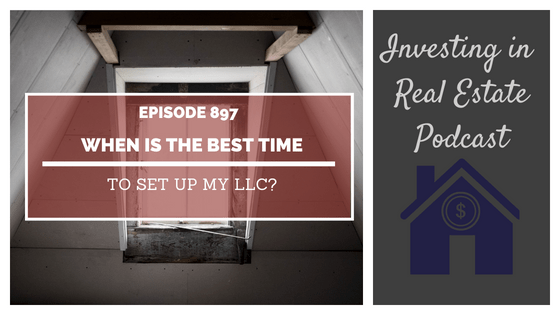 Today's first caller is buying his first rental property. Is it best to set up an LLC first, or buy first and figure out the logistics of entity setups later? That's the first question I'm answering on this Q&A episode of Investing in Real Estate!
On this episode, I'm taking three of your questions on when to set up an LLC, using other people's money for rental property repairs, and how to maximize depreciation. I'm also sharing some great news for investors on the state of the economy. Press play to hear my answers to your best investing questions!
On this episode you'll learn:
The best time to set up your LLC for real estate investing.
How to decide between using cash vs. other people's money.
What you need to know about depreciation as a real estate investor.
The Best Time to Set Up Your LLC for Real Estate Investing
This is a great question, but unfortunately there's not a one-size-fits-all approach. It can depend on financing. For example, if you're using non-recourse financing, you'll need an LLC. Alternatively, if you're using conventional financing, the lender is going to want a personal guarantee in your individual name.
While an LLC is generally important for real estate investors, it can certainly be set up after purchase. I would suggest working with a great real estate attorney team such as Corporate Direct for specific, individualized advice.
How to Decide Between Using Cash vs. Other People's Money
In general, I prefer using other people's money when possible. However, don't follow that rule blindly. You'll need to run the numbers on your deal. Here are a few things to consider:
What type of financing can you get?
What are the terms and interest rate like?
How do you plan to pay back the loan?
What would you otherwise use your cash for?
What type of timeline are you on?
What You Need to Know About Depreciation As a Real Estate Investor
Depreciation is one of the most powerful tax benefits of real estate investing. It allows you to offset your tax bill by claiming a deduction on the money you've invested in your property. Depreciation is based off the tax-assessed value of the property. I would not suggest trying to calculate depreciation yourself, but to instead work with a CPA firm that knows real estate investing. If you need a recommendation, I love the team at Wealthability.
Episode Resources
Book a Call with Our Team
Corporate Direct
morrisinvest.com/funding
morrisinvest.com/lower-taxes
morrisinvest.com/bootcamp ← Download your FREE 90-Day Bootcamp!
Subscribe to Investing in Real Estate on iTunes
Find Your Financial Freedom Number
Subscribe to the Morris Invest YouTube channel
Like Morris Invest on Facebook
DISCLAIMER: I am not a financial adviser. I only express my opinion based on my experience. Your experience may be different. These videos are for educational and inspirational purposes only. Investing of any kind involves risk. While it is possible to minimize risk, your investments are solely your responsibility. It is imperative that you conduct your own research. There is no guarantee of gains or losses on investments.
AFFILIATE DISCLOSURE: Some of the links on this channel are affiliate links, meaning, at NO additional cost to you, I may earn a commission if you click through and make a purchase and/or subscribe. However, this does not impact my opinion. We recommend them because they are helpful and useful, not because of the small commissions we make if you decide to​ use their services. Please do not spend any money on these products unless you feel you need them or that they will help you achieve your goals.
Ready To Build Passive Income Through Rental Real Estate?
Ready to talk about your goals? We're here to show you the tools and teach you the process to begin earning legacy wealth for you and your family.