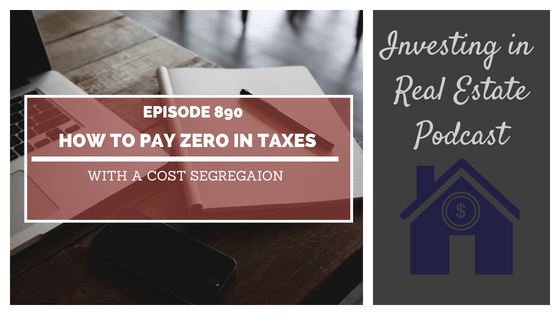 If you want to cut down on your tax burden, the best thing you can do is engage in the business practices that the tax law incentivizes. And one thing most people don't know is, you don't have to be among the ultra-wealthy to take advantage of these incentives. You just need to develop the financial education to make strategic decisions.
On this episode, I'm sharing one of the best tax saving strategies that is often overlooked by investors: the cost segregation. Click play on this episode of Investing in Real Estate to learn more about using a cost segregation!
More About This Show
Let me give you the technical definition of a cost segregation, then we'll break it down.
In a cost segregation study, the components that make up a property are analyzed for the purpose of reclassifying these eligible items into different tax classifications.
I know what you're thinking. That sounds complicated. And it can be complicated… but it doesn't have to be. The worst thing you can do is get scared or overwhelmed, and then do NOTHING. Remember, the goal here is to be financially intelligent, so stick with me.
Instead of depreciating everything at the standard rate of 27.5 years, a cost segregation allows you to reclassify components into shorter time frames — 5, 7, or 15 years. Doing this can potentially save you thousands of dollars on your tax bill, depending on your situation.
When you get a cost segregation study on a rental property, you're essentially front loading all of your depreciation. Here are some of the benefits of a cost segregation:
– It increases your tax savings
– It can free up capital to invest further
– You can accelerate your returns in a shorter period of time
Remember, this is written into the US tax code because the government wants to incentivize providing housing. We have an affordable housing crisis, and everyone needs a place to live. When you help fill this hole in the market, you'll be rewarded with a huge tax write-off, not to mention a hedge against inflation.
US home values went up 13% in 2020. Our clients in our top growth markets saw increases over 30%! Inflation makes real estate investors wealthier, while people who own liquid assets are at risk.
Look, inflation is at 8% and still rising. That means the value of your hard-earned dollar is plummeting fast.  At this pace, in the next 5 years you could lose 50% of your savings from inflation alone.
Here's the thing though, we can't play the blame game or complain about what's unfair. All we can do it take the situation we have and play with the rules that are available to us. It's up to you to create stability and financial freedom for your family. It's not up to your boss, the president, the economy, or anyone else – it's up to you to create the future that you want.
And the reality is, the tax code was written to reward real estate investors. This allows high income earners to keep more of their money in their pockets and pay little to no taxes – legally!
At Morris Invest, our cost segregation concierge service is the first of its kind. In general, a cost segregation can be a lengthy, costly process. But our professional full-service experience has a cost segregation analysis built in for qualifying properties.
The point of this is to make everything simple for you. Not only do you receive a completed cost segregation study of $5k in value FOR FREE, but we also take care of everything else pertaining to the property – even filling the rental with a reliable tenant, and placing an experienced property manager.
Clients who have purchased rental properties through Morris Invest are relieved to find that the time consuming and often confusing process of performing a cost segregation study was already done for them. Again this is for certain properties and clients meeting some criteria. This will all be discussed with our team during your phone calls.
If you're interested in taking advantage of a cost segregation study, there's never been a better time. We'd be happy to let you know if it seems like a fit for your personal investing strategy – just tell us when to call by booking a call at
morrisinvest.com
Episode Resources
Book a Call with Our Team
Rhone.com/investing ← Upgrade your closet & use code INVESTING to save 20%!
morrisinvest.com/bootcamp ← Download your FREE 90-Day Bootcamp!
Subscribe to Investing in Real Estate on iTunes
Find Your Financial Freedom Number
Subscribe to the Morris Invest YouTube channel
Like Morris Invest on Facebook
DISCLAIMER: I am not a financial adviser. I only express my opinion based on my experience. Your experience may be different. These videos are for educational and inspirational purposes only. Investing of any kind involves risk. While it is possible to minimize risk, your investments are solely your responsibility. It is imperative that you conduct your own research. There is no guarantee of gains or losses on investments.
AFFILIATE DISCLOSURE: Some of the links on this channel are affiliate links, meaning, at NO additional cost to you, I may earn a commission if you click through and make a purchase and/or subscribe. However, this does not impact my opinion. We recommend them because they are helpful and useful, not because of the small commissions we make if you decide to​ use their services. Please do not spend any money on these products unless you feel you need them or that they will help you achieve your goals.
Ready To Build Passive Income Through Rental Real Estate?
Ready to talk about your goals? We're here to show you the tools and teach you the process to begin earning legacy wealth for you and your family.