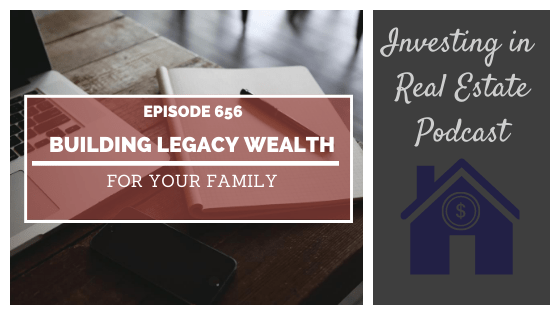 There are many pervasive myths and misconceptions about what it takes to build wealth. If you've ever been taught about the benefits of the 401k plan or the power of tax deferral in your retirement plan, it's probably time to widen your financial perspective. Today's guest, Garrett Gunderson, has devoted his career to debunking myths about wealth building and financial efficacy.
Garrett is a New York Times best-selling author, and the CEO of Wealth Factory, a company dedicated to helping entrepreneurs understand and develop economic independence. On this episode of Investing in Real Estate, Garrett is sharing game-changing tips on how you can become financially independent in this economy, and build lasting wealth for generations to come.
On this episode you'll learn:
The glaring issues with the 401k plan.
How to lay the foundation for building legacy wealth for your family.
What the Rockefellers did differently than other wealthy families.
How to build a healthy relationship with money.
And much more!
The Glaring Issues with the 401k Plan
When you sign up for a 401k with your employer, it's important that you understand that the custodian of that plan is making money. With a 401k, your money is being invested into the stock market with a risk. However, you're not the one who is making the returns. Garrett explains that if you follow the money, you'll understand why these plans are set up the way they are—and why institutions heavily promote them. Not to mention, with a 401k there's a heavy penalty for withdrawing your money.
How to Lay the Foundation for Building Legacy Wealth for Your Family
Garrett explains that instead of focusing on retirement, you should spend your energy focusing on creating the right career through entrepreneurship. Invest your time into building skill sets like speaking, communication, and marketing. When you have a strong skill set, you can add more value to the world. By building up a strong skill set, you can then capitalize on your skills and unleash your power as a value creator.
What the Rockefellers Did Differently Than Other Wealthy Families
In his book, What Would the Rockefellers Do?, Garrett studies the history of the Rockefellers. He dives into the details of how they were able to build generational wealth. While most wealthy families are only able to sustain their wealth for about three generations, the Rockefeller family has doubled that figure. One important ritual that the Rockefeller family engaged in was holding weekly meetings to invest in the development of their heirs. They did not focus on money and entitlement, but instead building skill sets and seeking opportunities.
How to Build a Healthy Relationship with Money
It's important to have a healthy relationship with money. In our society, you need money to function. But if you get caught up in the game of always chasing more money, you can miss out on the other parts of your life. Garrett suggests focusing on creating a life that you love and finding a way to create cash flow with your skills. Offer your unique value to the world, but don't chase an ever-changing target of more money.
Episode Resources
Simplisafe.com/investing ← Get free shipping & a 60-day risk-free trial
Book a Call with Our Team
What Would the Rockefellers Do? by Garrett Gunderson
Subscribe to Investing in Real Estate on iTunes
Find Your Financial Freedom Number
Subscribe to the Morris Invest YouTube channel
Like Morris Invest on Facebook
Connect with Garrett Gunderson
Website
YouTube
DISCLAIMER: I am not a financial adviser. I only express my opinion based on my experience. Your experience may be different. These videos are for educational and inspirational purposes only. Investing of any kind involves risk. While it is possible to minimize risk, your investments are solely your responsibility. It is imperative that you conduct your own research. There is no guarantee of gains or losses on investments.
AFFILIATE DISCLOSURE: Some of the links on this channel are affiliate links, meaning, at NO additional cost to you, I may earn a commission if you click through and make a purchase and/or subscribe. However, this does not impact my opinion. We recommend them because they are helpful and useful, not because of the small commissions we make if you decide to​ use their services. Please do not spend any money on these products unless you feel you need them or that they will help you achieve your goals.
Ready To Build Passive Income Through Rental Real Estate?
Ready to talk about your goals? We're here to show you the tools and teach you the process to begin earning legacy wealth for you and your family.