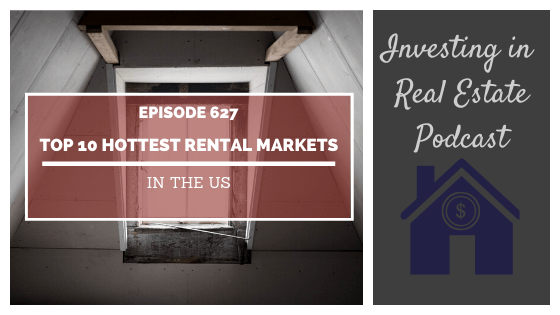 On today's show, we're diving into the top ten hottest rental markets in the US. To be clear, these are not the best markets to invest, but instead the most expensive, overinflated, fastest-growing rental markets.
If you want a solid investment with higher ROI and low volatility, you'll want to avoid these top ten hottest rental markets. This list includes some of the most speculative and expensive cities in the US. Press play to hear the top ten hottest rental markets in the US!
10. San Diego, California
There's a lot to love about San Diego—the constant beautiful weather, the beaches, the sunsets, and more. But if you're an investor, San Diego (or anywhere in California, really) is an impossible place to receive high returns on investment. A one-bedroom apartment in San Diego rents for $1750/month.
9. Miami, Florida
Beautiful weather, ridiculous prices. Miami has shopping, sports, nightlife, and more. Compared to other cities in Florida, Miami has highly inflated prices. A one-bedroom apartment goes for $1760/month.
8. Seattle, Washington
Now we're pivoting to a city with much less desirable weather—Seattle. Home to the Space Needle, the first Starbucks, and Pike Place Market, Seattle has a lot to offer. But unfortunately, apartments in Seattle start at $1830/month.
7. Los Angeles, California
Yet another Southern California city with inflated prices. A one-bedroom apartment in LA will run you $2260. While LA might sound appealing, it makes for a horrible rental market.
6. Washington, DC
Because of the amount of government jobs, the capital is a pretty recession-proof market. The greater DC metro area has experienced massive growth, but it's still too overinflated to be a smart investment. Here, a one-bedroom apartment costs $2300.
5. San Jose, California
Let's talk about another city with a recent growth spurt. San Jose is a major technology hub that comes with a steep price tag. One-bedroom apartments in San Jose are $2440 per month.
4. Oakland, California
Now we're getting into the Bay Area, and it should come as no surprise that Oakland is one of the most expensive cities to rent in the US. A modest apartment in Oakland will cost you $2470 every month.
3. Boston, Massachusetts
Recently, Boston made the list of most walkable cities. Boston also offers baseball culture, the Boston Marathon, innovation, and sustainability. But if you're looking to buy a rental property, I'd steer clear of Boston, where rents start at a whopping $2500/month.
2. Manhattan, New York
New York City has a special place in my heart, but there's no room for it in my rental portfolio. The market in New York is notoriously volatile, and prices are steep—think $3000 for a small one-bedroom apartment in the Big Apple.
1. San Francisco, California
It's no secret; San Francisco is overpriced and overinflated. Rents in the Golden Gate City start at $3520.
Episode Resources
Book a Call with Our Team
Subscribe to Investing in Real Estate on Apple Podcasts
Find Your Financial Freedom Number
Subscribe to the Morris Invest YouTube channel
Like Morris Invest on Facebook
DISCLAIMER: I am not a financial adviser. I only express my opinion based on my experience. Your experience may be different. These videos are for educational and inspirational purposes only. Investing of any kind involves risk. While it is possible to minimize risk, your investments are solely your responsibility. It is imperative that you conduct your own research. There is no guarantee of gains or losses on investments.
AFFILIATE DISCLOSURE: Some of the links on this channel are affiliate links, meaning, at NO additional cost to you, I may earn a commission if you click through and make a purchase and/or subscribe. However, this does not impact my opinion. We recommend them because they are helpful and useful, not because of the small commissions we make if you decide to​ use their services. Please do not spend any money on these products unless you feel you need them or that they will help you achieve your goals.
Ready To Build Passive Income Through Rental Real Estate?
Ready to talk about your goals? We're here to show you the tools and teach you the process to begin earning legacy wealth for you and your family.