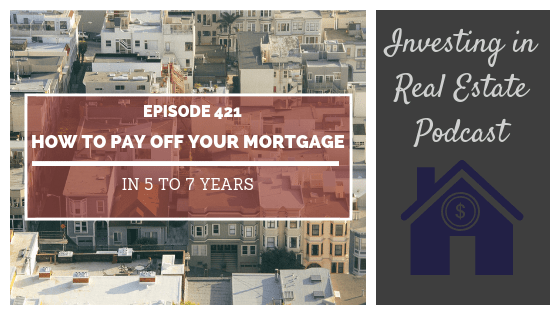 Book a call with our team: https://go.oncehub.com/morrisinvest
Today's episode of Investing in Real Estate is sponsored by Pitney Bowes! SendPro Online by Pitney Bowes is an online software that helps you save time and money no matter what you send. SendPro Online is only $14.99/mo, and listeners can get a FREE 30 day trial when you visit pb.com/clayton.
This episode is also sponsored by NetSuite by Oracle, the business management software that handles every aspect of your business in an easy to use cloud platform. Right now, NetSuite is offering you valuable insights to overcome the obstacles that are holding you back – for FREE. Download the free guide, Crushing the Five Barriers to Growth at netsuite.com/clayton.
For most Americans, our biggest expense is our monthly mortgage payment. On our family's journey toward financial freedom, we dreamed about what our life would be like if we could eliminate that dreaded expense. We discovered and then implemented a strategy that allowed us to pay off our 30-year mortgage in just a few short years. With a little creativity and dedication, you can pay off your mortgage too!
On this episode of Investing in Real Estate, Natali and I are sharing four simple steps you can take to pay off your mortgage. We'll talk about amortization schedules, and how to evaluate financial products. Plus, we're sharing a free resource you can utilize to plan an attack against your mortgage!
On this episode you'll learn:
How your mortgage actually works.

The two main enemies in your mortgage.

How to attack the principle in your loan.

Why a HELOC is a powerful tool for paying off your mortgage.

How a 401k loan works.

The importance of thinking creatively

And much more!
Episode Resources
Pitney Bowes
netsuite.com/clayton
Amortization Freebie
How to Pay Off Your Mortgage in 5 Years by Clayton and Natali Morris
Capital One Spark Business Credit Card
Capital One Venture Personal Credit Card
Find Your Financial Freedom Number
Subscribe to the Morris Invest YouTube channel
Like Morris Invest on Facebook
If you're ready to begin building a passive income through rental real estate, book a FREE call with our team today. We're ready to talk about your goals and want to help you learn more about earning legacy wealth for you and your family.
Ready To Build Passive Income Through Rental Real Estate?
Ready to talk about your goals? We're here to show you the tools and teach you the process to begin earning legacy wealth for you and your family.