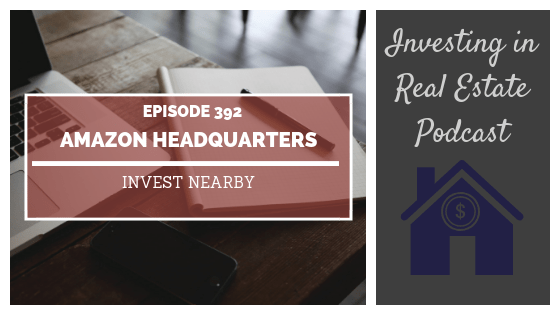 Book a call with our team: https://morrisinvest.com/book-a-call/
This episode of Investing in Real Estate is sponsored by ZipRecruiter. With ZipRecruiter, you can post your job to 100 plus job sites with just one click. Find out today why ZipRecruiter has been used by businesses of ALL sizes to find the most qualified job candidates with immediate results. Visit ZipRecruiter.com/investing to post your job for free!
After a long search for a new distribution center location, Amazon has finally decided on where to place its second headquarters operations. On this episode, I'm sharing the importance of this decision for real estate investors!
If you like to keep up on breaking news and changing real estate markets, this episode is for you. You'll learn why you might want to invest near big name businesses like Amazon, and why my rental properties near Amazon headquarters are so sustainable. Come along for episode 392 of Investing in Real Estate!
On this episode you'll learn:
Why a distribution center is a sign of a stable rental market.

The two cities in which Amazon is setting up their headquarters.

Why American-based jobs are important for real estate investing.

What's happening in the real estate market near Amazon's HQ2.

The types of businesses you should seek out in a potential rental market.

How the job market has changed in Detroit, and why it's a great market.

And much more!
Episode Resources
ZipRecruiter
Subscribe to Investing in Real Estate on Apple Podcasts
Find Your Financial Freedom Number
Subscribe to the Morris Invest YouTube channel
Like Morris Invest on Facebook
If you're ready to begin building a passive income through rental real estate, book a FREE call with our team today. We're ready to talk about your goals and want to help you learn more about earning legacy wealth for you and your family.
Ready To Build Passive Income Through Rental Real Estate?
Ready to talk about your goals? We're here to show you the tools and teach you the process to begin earning legacy wealth for you and your family.